'No one wants to watch!' US writer shames Meghan Markle, Harry over their Netflix production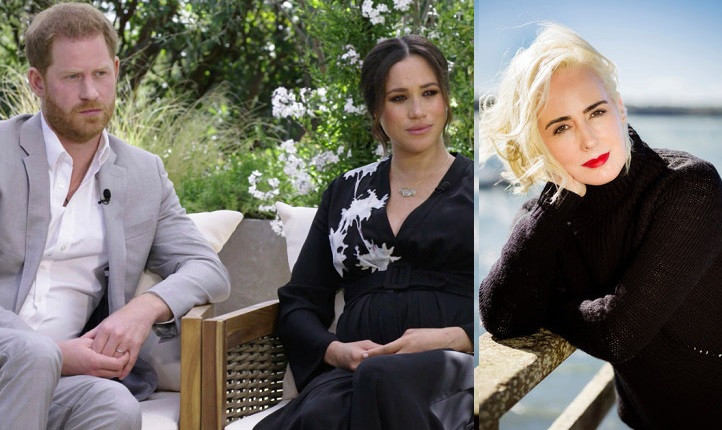 The embattled Duke and Duchess of Sussex signed the deal to make original contents which includes documentaries, children's programmes as well as scripted shows, and feature films.
Just while a full list of their plans is yet to be revealed it was announced back in April that Harry was working on a series about the Invictus games.
Many of their fans can't wait to finally see the pair's hard work on screens, but other people including US columnist Maureen Callahan are definitely not as excited after hearing the Netflix announcement.
The columnist brutally hit out at the pair and their ambitions of becoming Netflix mega-stars, writing in the New York Post: "Meghan showed up on 'America's Got Talent' for no discernible reason, and Harry and Meghan just announced that $100-million-dollar deal with Netflix.
'Making inspirational family programming,' they said in a statement, 'is important to us.'
"Uh-huh. They droned on about 'the power of the human spirit: of courage, resilience, and the need for connection.
"'Through our work with diverse communities and their environments, to shining a light on people and causes around the world, our focus will be on creating content that informs but also gives hope.'
"In other words, stuff no one wants to watch.
"Let's get real: The most buzzed-about doc on Netflix right now is about a South African man who falls in love with an octopus ('My Octopus Teacher,' truly a must-see)."
'Heart of Invictus' will follow the journeys of individuals who are competing at the games which take place next year at The Hague.
Harry founded Invictus in 2014 after being inspired by the Warrior Games in the US, learning how sport can help both mental and physical health. He is expected to appear on camera during the docuseries and be credited as executive producers.
Meanwhile, Prince William has been heavily slammed by royal fans on social media after he allegedly criticized Meghan Markle.
A royal expert claimed in the Daily Mail that the future king, 39, had called his brother Harry's wife "that bloody woman" over the way Meghan, 39, had treated his staff.
According to Robert Lacey, Prince William reportedly called Meghan Markle "that bloody woman" and accused her of being "merciless" to staff.
Lacey, author of the new book Battle of Brothers, wrote in the Daily Mail: "According to one of my sources, it's been pointed to him that everyone has a difficult sister-in-law.
"William's response was to nod his head in sage acceptance. Then suddenly he broke out angrily. 'But look at the way that bloody woman treated my staff – merciless!'"
William's alleged comments led to many royal fans sharing their contempt on Twitter, one claimed that William is "competing to be like Piers Morgan".
Many fans took the side of the Duchess of Sussex, calling out Prince William for his derogatory choice of words.
Another wrote: "Prince William, the future King, calling #Meghan 'that bloody woman' is a shameful reminder of the casual sexism and misogyny that women particularly black women face every single day as they seek to get on in the world."
👉Full Access to Complete Primary & Secondary Education Online👈
😎PASS WAEC, JAMB-UTME, NECO, BECE IN 1 SITTING. GUARANTEED💯