Nigerians mock MC Oluomo's lover, Ehi Ogbebor as he secretly ties the knot with another lover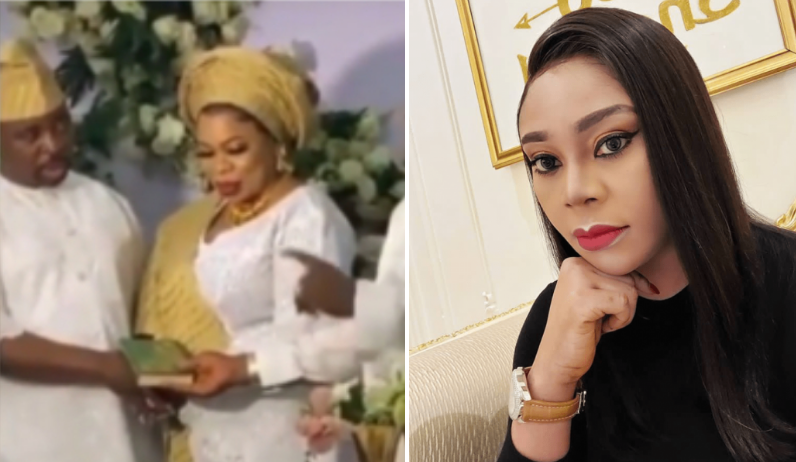 Ehi Ogbebor has been mocked by Nigerians as her lover, MC Oluomo holds secret wedding with his new American-based lover.
Musiliu Ayinde Akinsanya popularly known as MC Oluomo is a Nigerian socialite who is currently the chairman of the Lagos chapter of the National Union of Road Transport Workers (NURTW). MC Oluomo was seen exchanging vows with another woman in an event held at Ebutte Metta in Lagos, with fifty guests in attendance. This was disclosed by a controversial Instagram blogger, Gistlovers.
The blogger wrote;
"Ehi no be your prick person dey tie knot with so???50guest coded wedding for Ebutte Metta yet videos still fly come out,forget jazz dey o,Yoruba women no Dey carry last??Ehi oya call your baba too,let the person with the highest jazz win??I come in peace.Bro Dele decor,if Mc Tuta hold you for hand,your blood gonna dry"
A few months ago, MC Oluomo and his side chick, Ehi Ogbebor were reportedly having issues in their relationship as sources claim that MC Olumo discovered that Ehi Ogbebor had been involved in a romantic relationship with his close friend which made him quite uncomfortable. However, Ehi Ogbebor shared a post on her Instagram page and invalidated the claims as she shared an intimate video of herself and MC Oluomo in bed.