Nigeria student breaks record with 5.0 CGPA in Hungary University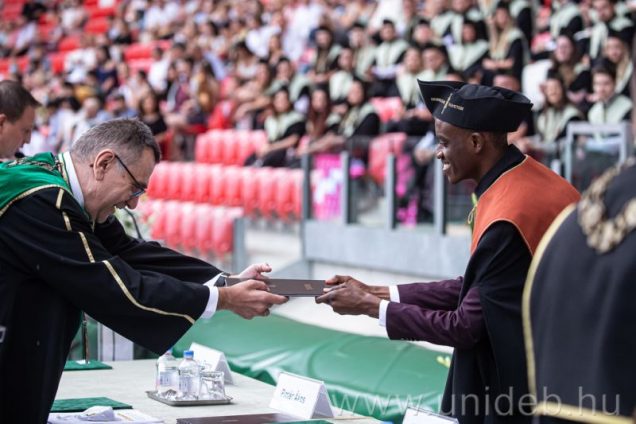 Olowoyeye, on his linkedin page said it was more more like a BOOTCAMP to him as he "graduated with a perfect GP of 5.0 and I can't be any less grateful to the shepherd of my soul"
In his final note after graduation, he said "you can be a pundit in the classroom and still be a business mogul. You can make more money online without the demands of the work affecting your schedule on campus.
"You can be a political juggernaut and it would still not upend your academic journey on campus. You can garner skills that would set you in the tone of every recruiter or help you to start that big thing that would shake the world at large.
"You can pursue destiny, serve God without holding back and remain a major force to be reckoned with in your world.
"As an undergraduate, I was just busy chasing after academics, in the end, I didn't even finish with a first class. I was just oblivious of many opportunities that were available at my disposal right there on campus. This is the hard truth, there are certain things you would wish you'd learn why you were on campus, but it may be too late," he said.
According to him, he was not saying students should not pursue their academics, but that they needed was simply balance and the right information at the right time.
"Fast forward, to my master's program both the one I just finished here and the one I didn't complete back at home before I landed a fully-funded scholarship to study here in Hungary, I can say I didn't waste any opportunity that crossed my path, I was also intentional about acquiring skills.
"I graduated from the prestigious University of Debrecen with a perfect GPA of 5.0, capped with special honors. This time around, I'd many more things I took up as a challenge, accepted volunteering roles, embraced the opportunities to skill-up anywhere at any time, dared two major competitions and my team was a finalist in one of them, I offered to help people for free (This one didn't leave me the same), above all, I took destiny very seriously," he added.
😎PASS WAEC, JAMB-UTME, NECO, BECE IN 1 SITTING. GUARANTEED HERE💯
WIZKID: A LOOK INTO THE SUPERSTAR'S LOVE LIFE