Mudslide kills over 250 persons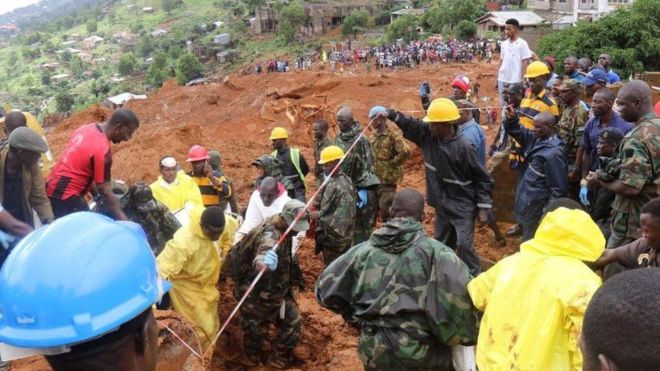 Mudslide kills over 250 persons
Over 250 persons are feared dead and many others injured after a massive mudslide swept over Tara Democratic Republic of Congo.
Tara is a fishing village in the Central African country.
Pacifique Keta, deputy head of Ituri province where Tara is located, told newsmen that the death toll was now between 150 and 250, with many still buried under the rubble of an estimated 48 destroyed homes.
The civic movement Struggle for Change (Lucha) accused the government of failing to act quickly enough after the disaster hit on August 16.
"Some of the people among the disappeared could have been saved if government intervention had been rapid," Lucha said in a statement.
Interior Minister Emmanuel Ramazani Shadary only travelled to the province on Thursday on "a mission of humanitarian assistance".
"It is unacceptable that we lost 200 Congolese and no authorities are present on the ground," said Vital Kamerhe, leader of the opposition Union for the Congolese Nation, a day before the interior minister's trip.
Government spokesman Lambert Mende on Wednesday acknowledged that the mudslide was "a major catastrophe", but scorned critics of the authorities.
"We live in a country where people want to criticise everything," Mende said.
💰Make, Manage & Multiply More Money FREE CLICK HERE👌
How to JAPA to the UK easily [Free Application Templates]