Mixed reactions as man marries 10 women all in one day (Video)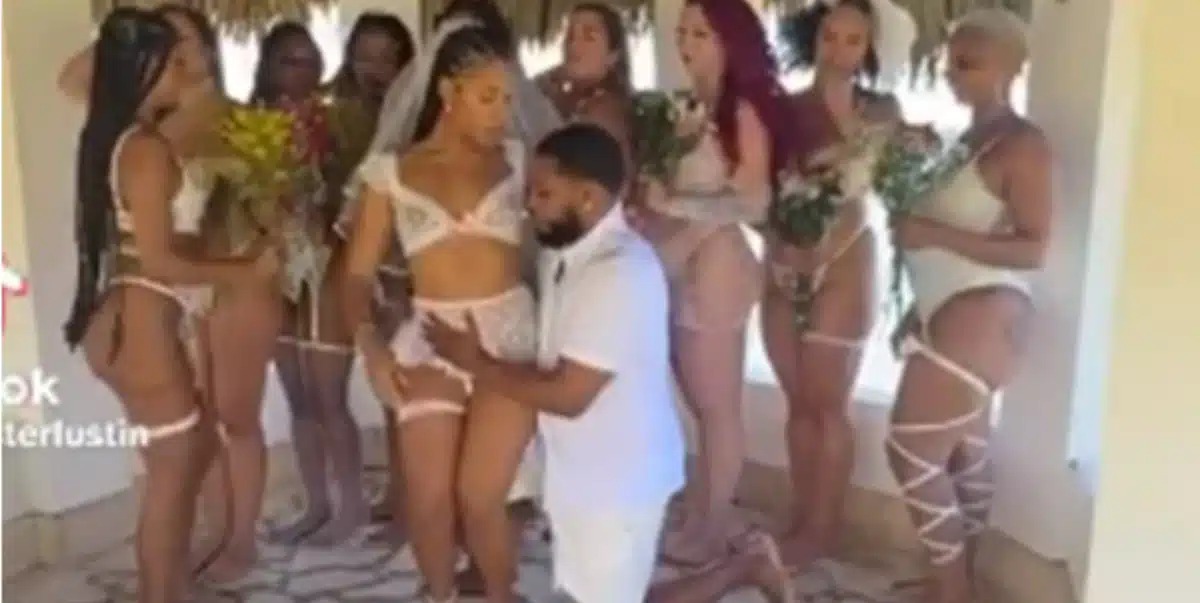 An African American man has sparked controversy online after he decided to settle down and marry ten different women in one day.
In a video shared on the online space, the young man took polygamy to an all-new level that left netizens both astonished and captivated,
The video shows a happy African American groom posing with his ten new wives, who are all dressed beautifully in wedding attire.
The atmosphere is harmonious, and the unique group photo captures the young man kneeling down while one of his brides sits graciously on his knees.
The video quickly spread on social media platforms, sparking a mix of astonishment, curiosity, and admiration.
Watch the video below;
Bro gonna lose his mind pic.twitter.com/aRSp01RTHp

— Lance🇱🇨 (@Bornakang) August 1, 2023
See some of the reactions below;
@tonichauntel said; "I can understand why a woman would want multiple husbands – I will never understand why a man would want multiple wives."
@LordComrie said; "10 different sets of mood swings, 10 different arguments, 10 different kinds of love languages, 10 different birthdays, favourite colours, ice cream etc. Then boom all cycles sync up at once. lol madness."
@SUPER_UN_STABLE said; "People like this marry so many woman cause they ultimately just veiw woman as bodies and think "woww 10 different girls to bang!!" And not the TEN different human beings they'll have to dedicate their life to. Bet bro couldn't even name their eye colors."
See below;