Lucky Teen Wins Big On 2 lottery Ticket Few Days Apart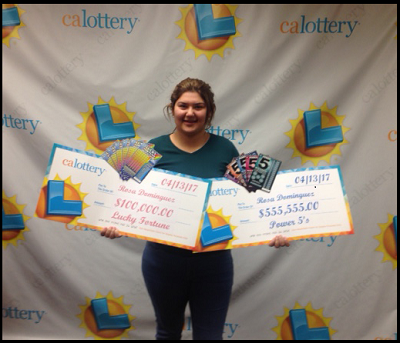 What does it feel like to invest $10, and get back a fortune in a few days?.
You can ask Rosa Dominguez.
The 19-year-old from California won $655,555 recently after hitting big on two different lottery tickets.
Dominguez told the California Lottery she was heading home from Arizona when she stopped at a gas station in Paso Robles and purchased a few Scratchers®. One of those tickets, a $5 Power 5's ticket, earned her the top prize of $555,555!
"I was so nervous I just wanted to cry," she told the Lottery.
Still fresh from her first win, Dominguez bought another lottery ticket ― a $5 Lucky Fortune Scratcher ― a few days later at a gas station in Greenfield, a city in Monterey County. Again, the teen scored the top prize for the ticket: $100,000!
Dominguez says she plans to buy a new car with some of her winnings. We're thinking she should definitely reinvest in some more tickets and keep that lucky streak going!
Congrats Rosa ― enjoy your wins!!!