Lucky Aubameyang secures first ever League title of his career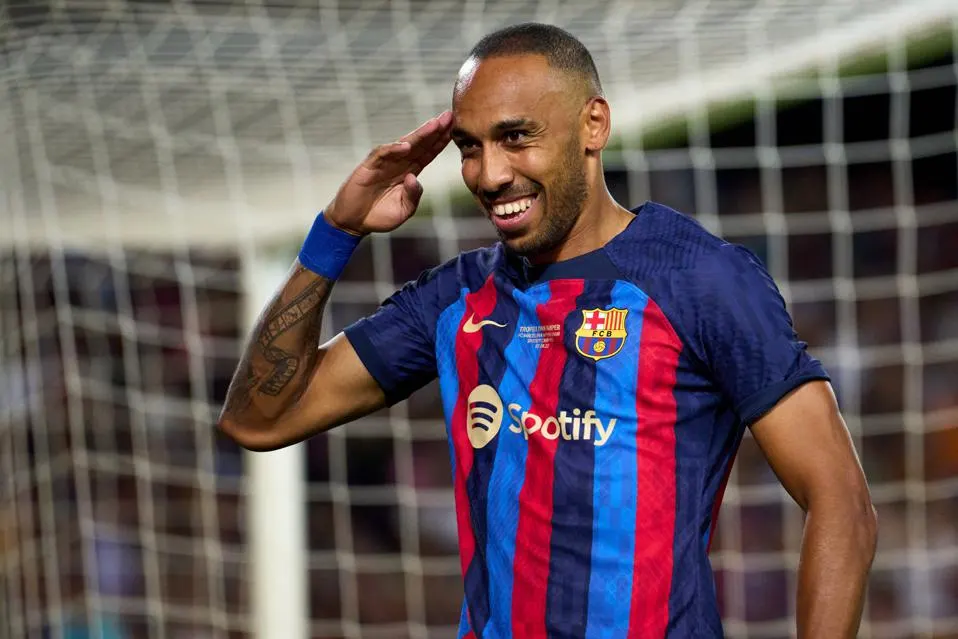 In a surprising turn of events, Pierre-Emerick Aubameyang has clinched the first league title of his career, despite a lack of significant playing time for Chelsea throughout their tumultuous season.
The Gabonese striker's journey over the past 18 months has been filled with ups and downs, starting as the captain of Arsenal before encountering a series of setbacks.
The difficulties for Aubameyang seemingly began with his late arrival for the north London derby, which triggered a chain of events leading to Mikel Arteta's decision to offload the forward. In January 2022, Aubameyang's contract at the Emirates Stadium was terminated on transfer deadline day, enabling him to join Barcelona as a free agent.
During the second half of the campaign, Aubameyang impressed for Barcelona, tallying an impressive 11 goals in just 17 league appearances. His strong performances caught the attention of Chelsea, who reunited him with his former manager Thomas Tuchel after paying a transfer fee of approximately £10 million.
However, Tuchel's subsequent dismissal as Chelsea manager mere weeks after Aubameyang's arrival resulted in limited playing time for the striker. Over the course of the season, he featured in only 15 Premier League matches, with a mere five starts and a solitary goal to his name.
In a peculiar twist, Aubameyang recently made headlines when he was seen celebrating Barcelona's victory over Real Madrid in El Clasico while inside the Barcelona dressing room.
Now, with just eight minutes of play in Barcelona's opening game of the season against Rayo Vallecano, where he was substituted on for Jordi Alba in pursuit of a winning goal in a 0-0 draw, Aubameyang officially joins the ranks of La Liga champions.
Unlike the Premier League, which mandates five appearances to qualify for a winner's medal, continental competitions have different criteria, enabling players such as Aubameyang and Kingsley Coman to secure league titles despite limited playing time.
Considering the recent struggles of Chelsea, Aubameyang's newfound status as a champion appears incongruous, especially given his underwhelming performances.
Speculation suggests that the 33-year-old will return to the Nou Camp in the summer, as Barcelona had considered terminating his contract following the Clasico incident.
Despite his recent affiliation with Arsenal, evidenced by a rare start in the game against Chelsea, Aubameyang can now celebrate his achievement as Barcelona confirmed their 27th Spanish league title by defeating local rivals Espanyol.
The players were showered with adulation from home fans as they celebrated, solidifying Aubameyang's place among the champions of La Liga.