Lil Wayne Praises Jay Z, Calls Him "Greatest Rapper Of All Time"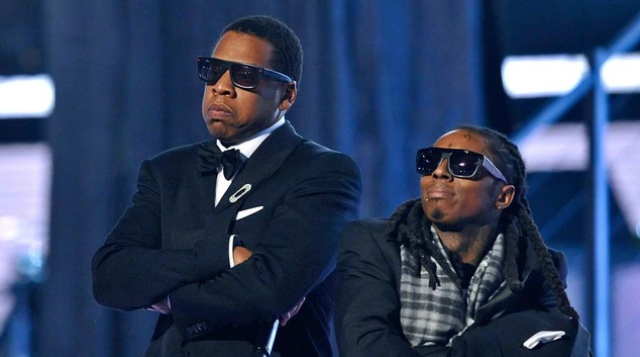 American rapper and Young Money record label owner, Lil Wayne is confident and hails rapper Jay Z is the greatest rapper of all time.
This might come as a surprise to a lot of people as Lil Wayne has repeatedly referred to himself as the G.O.A.T (Greatest Of All Time) in the past.
In his Tha Carter II album which came out in 2005, he even had a song called "The Best Rapper Alive".
In a promotional clip for an alcohol brand, he asks fans to mention who the greatest rapper of all time is and then goes ahead to say that he believes that Jay Z is the G.O.A.T.
By this time, it shouldn't be a surprise that Lil Wayne hails Jigga as the greatest. The love and respect the two Carters share between each other is evident.
Aside from helping Weezy settle his $14 million tax debt in March, the Roc Nation founder previously credited Wayne for lighting the fire under him that resulted in his No. 1 album The Blueprint 3 in 2009. At one point, the Brooklyn rap mogul made an attempt to sign him to Roc-A-Fella Records for $175,000.
They've made some songs over the years like Mr. Carter and Hello Brooklyn 2.0. Jay Z even made his own rendition of Lil Wayne's hit song "A Milli" and called his "A Billi."