Top 8 Lessons to Learn from Nigeria's Billionaire Elite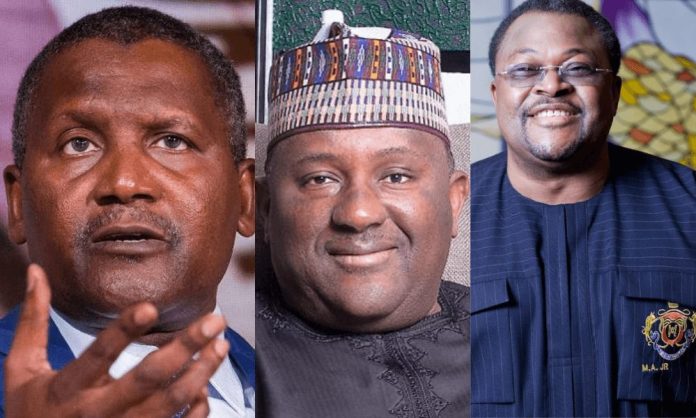 It's not always the smartest guys that win in business. It's the most resilient. And Nigeria is home to some of Africa's most resilient, affluent, and accomplished business people and entrepreneurs.
Figures like Aliko Dangote, Mike Adenuga, Abdulsamad Rabiu, Femi Otedola, Tony Elumelu, and Folorunsho Alakija have amassed immense wealth in industries ranging from oil to telecommunications, leaving a significant impact on Nigeria's business sector.
What sets these individuals apart from others? What lessons can aspiring entrepreneurs glean from their successes? This article will delve into five key takeaways from Nigeria's billionaire elite, offering valuable insights and inspiration for aspiring business leaders.
Lesson 1: Perseverance and Hard Work
Successful entrepreneurs face numerous challenges, but it is their perseverance that distinguishes them. Aliko Dangote, founder of the Dangote Group, exemplifies this quality. Despite currency devaluations, competition, and government regulations, Dangote remains steadfast in his goals. He believes in taking risks and persevering through difficult times, which has enabled him to build a $20.5 billion empire and contribute to Nigeria's economic growth.
Lesson 2: Innovation Drives Growth
The importance of innovation in driving growth is understood by successful entrepreneurs. Tony Elumelu, founder of Heirs Holdings and the Tony Elumelu Foundation, advocates for innovation as the key to unlocking Africa's economic potential. Elumelu has invested over $100 million in supporting African entrepreneurs, providing them with seed funding, training, and mentorship to foster successful businesses. Aliko Dangote's conglomerate, the Dangote Group, is also recognized for its innovation and adaptability across sectors such as cement, sugar, flour, and oil and gas.
Lesson 3: Philanthropy is Essential
Successful entrepreneurs recognize the significance of giving back to society. Femi Otedola, founder of Forte Oil, is a notable philanthropist in Nigeria, generously donating millions of dollars to support education, healthcare, and disaster relief. Aliko Dangote, Tony Elumelu, Abdulsamad Rabiu, and Folorunsho Alakija have also made substantial philanthropic contributions, addressing healthcare and education needs through their foundations.
Lesson 4: Diversification Reduces Risk
Diversification plays a crucial role in risk reduction, as acknowledged by accomplished entrepreneurs. Abdulsamad Rabiu, founder of BUA Group, has built a diverse portfolio of businesses in Nigeria and beyond, operating in sectors such as cement, sugar, and agriculture. Rabiu understands that diversification is essential for long-term sustainable growth, enabling him to weather economic challenges and build a successful business empire.
Lesson 5: Focus on Excellence
Successful entrepreneurs prioritize excellence in building their businesses. Folorunsho Alakija, founder of Famfa Oil, exemplifies this commitment to excellence, considering it not merely a skill but an attitude. Despite numerous industry challenges, Alakija's dedication to excellence has enabled her to build a thriving oil and gas company. Her pursuit of excellence also extends to philanthropic endeavors, supporting education and healthcare in Nigeria.
Lesson 6: Embrace Collaboration and Partnerships
Successful entrepreneurs recognize the power of collaboration and strategic partnerships. Mike Adenuga, the founder of Globacom, has demonstrated the value of forming alliances. Through partnerships with international telecommunications companies, Adenuga expanded his business and achieved remarkable success in the industry. Embracing collaboration allows entrepreneurs to tap into expertise, resources, and networks that can propel their businesses forward.
Lesson 7: Embody a Strong Work Ethic and Discipline
A strong work ethic and discipline are fundamental to achieving entrepreneurial success. These qualities are exemplified by Femi Otedola, who has built a thriving business empire. Otedola's dedication, discipline, and commitment to excellence have played a pivotal role in his accomplishments. By maintaining a rigorous work ethic and adhering to disciplined practices, aspiring entrepreneurs can effectively navigate challenges and maximize their potential for success.
Lesson 8: Adaptability and Resilience in the Face of Change
Successful entrepreneurs possess adaptability and resilience, allowing them to thrive in dynamic and ever-changing environments. Tony Elumelu has emphasized the importance of adaptability, stating that entrepreneurs must be willing to adjust their strategies and embrace change. With the ability to adapt to market trends, technological advancements, and economic fluctuations, entrepreneurs can stay ahead of the curve and capitalize on new opportunities.
Aliko Dangote, Abdulsamad Rabiu, Femi Otedola, Tony Elumelu, and Folorunsho Alakija are among Nigeria's most prosperous entrepreneurs, offering valuable lessons for aspiring business leaders. These lessons encompass perseverance, innovation, philanthropy, diversification, and excellence.
By integrating these additional lessons of collaboration, work ethic, and adaptability into their entrepreneurial journeys, aspiring business leaders can gain a comprehensive understanding of the qualities and practices that contribute to the success of Nigeria's billionaire elite. Embracing these lessons will enable entrepreneurs to navigate challenges, innovate, and create lasting impact in the business landscape.