Leo The Magical Messi, What More Can We Say?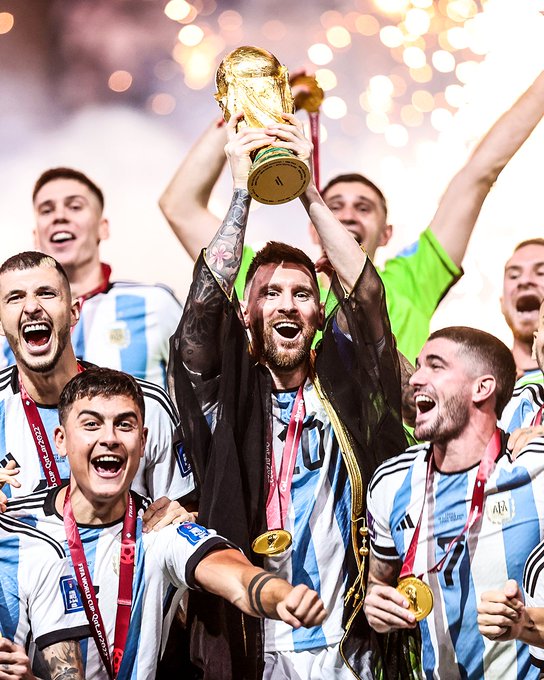 When the Qatar world cup is remembered, what will it be remembered for? It will be remembered for a lot of things; the politics, Morocco, France and Lionel (Leo) Messi.
It was the night the Argentine completed the football set to lift whatever football could put on offer. 10 times La Liga titles, 1 Ligue 1 title in his first year in Paris, 7 times Copa del Rey in Spain, 7 times Supercopa de España, 4 times Champions League titles, 3x UEFA Super Cup, 3x Club World Cup, 7 times Ballon d'Or.
At one point, it seemed destined Leo Messi would never win a trophy with the Argentina national team but in 2021, the jinx was broken as he marshaled Argentina to a Copa America title, and today, the very first world cup for Argentina after 1986, marching Diego Maradona's exploits for the South American team.
What more is there to say of Leo Messi?
Of course, the GOAT debate, but seriously, if there ever was or there ever should be the need for a debate on who is the better player between Leo Messi and Cristiano Ronaldo, it shouldn't be categorized solely on just their trophy overhaul in the game, and if anything, the comparisons were to sell papers and create more political headlines.
Both are great players on their own rights, and as well different players who bring different things to football and to a team; comparing them would and should never be fair, and certainly not fair to Cristiano Ronaldo.
The GOAT debate was merely a sham to bring excitement to the game, and thankfully, the players played along, but now, the world should be ready to bid farewell to these stars and appreciate what they brought to modern-day football.
Whoever remains anyone's preference, should not deny what this night brought to football; a night of excitement, with Leo Messi and Kylian Mbappe carrying their teams through the lines in what football might come to recognize as the best world cup ever.
The rainbow politics may have been played, narratives created and doubts harbored in minds, but in the end, Qatar brought to the world surprises, and to Leo Messi, his precious holy grail.
Football won in the end, many are happy and as well many will be sad, but congratulations to Argentina, and congratulations to Leo Messi.