Lagos Sweepers protest against LAMATA for non-payment of 5 Months Salaries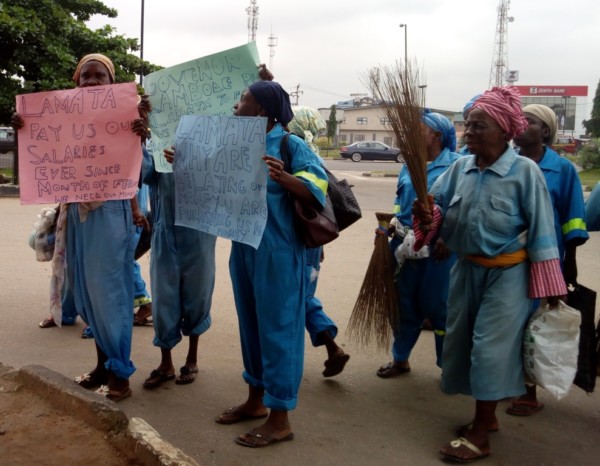 Sweepers employed by Dafunol International Limited, a contractor engaged by the Lagos Metropolitan Area Transport Authority (LAMATA) on Monday staged a peaceful protest over the non-payment of their five months' salaries.
The sweepers who were in their sweeping kits and holding brooms spoke to the press in front of Motorways Premises, near 7-Up bus stop, Ikeja.
The protesters carried placards with inscriptions appealing to the management of LAMATA to pay them their salaries.
They said they were employed by the contractor to sweep the LAMATA-constructed bus shelters along Mile 12-Ketu –Ikorodu Road –Tafawa Balewa Square (TBS) axis.
They said that they had not been paid since March, 2017.
Some of the inscriptions read: "LAMATA , pay us our salaries ever since the month of February,'' "LAMATA, why are you denying us our money, you are punishing us.''
Musiliu Akindele, a 70 sweeper, said that their employer initially payed each sweeper N10,000 per month before increasing it to N15,000.
"We were only paid for January and February, 2017. Our employer owes each of us five months' salary arrears. Most of our children have been sent out of their schools over unpaid fees,'' she said.
Akindele said that before now, their employer would supply them brooms to work with.
"But now, we are responsible for them. With the non-payment of our salaries; we cannot afford them and this is affecting our service," she said.
"Each broom costs N200 and now that the salary is not paid, we have no means to buy them to work,'' she added.
Another sweeper, Morufat Egunjobi, who covers the LAMATA bus-stop shelters around Ketu  said they usually work between 6 a.m. and 5 p.m., Mondays through Sundays.
"We do not have duty off and no motivation from our employer. Yet, our employer owes us five months of unpaid salaries
"Some of us who could not cope with the harsh situation have stopped working, the rest of us are doing it on empty promises that we will be paid one day.
"We are indebted to food sellers and they had refused to sell to us on credit anymore,'' Egunjobi said.
Also, Mero Raifu, another sweeper said that she had cultivated the habit of trekking from Ijora-Badia to Costain where she was assigned LAMATA bus-stop shelters to sweep.
"I have been ejected from my rented apartment by my landlord because of my inability to pay my monthly rent. I now sleep inside a mosque.''
Mojisola Adejuwon said that the sweepers had two meetings with their supervisors early in the year where they highlighted their plights and there was an assurance from the supervisors that they would pay them.
"We have to resort to this peaceful protest today because our supervisors seemed to have reneged on their promises,' she said.
Abiodun Omaike said that he had been taking care of his family by borrowing from his neighbours.
"I live around Moshalashi-Idioro on Lagos Mainland while I am assigned to sweep four bus-stop shelters around Fadeyi and Onipanu every day.
"Instead of sweeping one bus-stop shelter, each sweeper is assigned to sweep between three and four on daily basis and we do not complain.
"Despite this multi-tasking, we are still being owed salaries by our employer.
"We are pleading with our employer: LAMATA and Dafunol International Limited, its contractor to pay us our standing salaries.
"Through that, we will have money to take care of ourselves and be able to work efficiently,'' Omaike said.
Kola Ojelabi, Head of Media and Communication, LAMATA, was contacted, and he said that the state government was processing the funds for the payment of the sweepers.