Lady who faked her kidnap on Twitter arraigned in court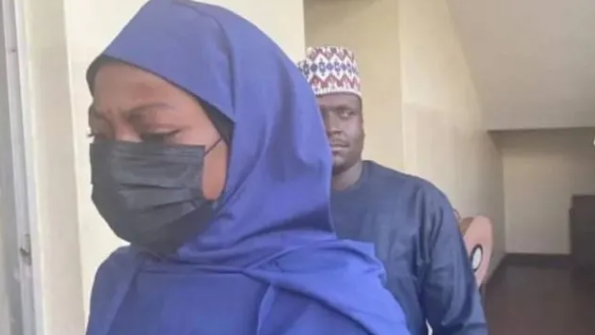 A young Nigerian lady who raised alarm that she was kidnapped by some armed men, has been arraigned in court today.
The Islamic lady identified as Amirah Safiyanu, has been arraigned at the Zone 2 Magistrate Court today, June 29 after she raised a false kidnap alarm on Twitter.
Amira had, on Tuesday, June 14, in a series of tweets alleged that she and 17 other victims were abducted at gunpoint from different parts of Abuja by men in uniform.
According to her narration, they were driven off in a van and later separated into two groups. She also tweeted the locations of the alleged kidnappers, claiming they were unaware that she was on the phone.
The police swung into action to rescue the alleged victims, but later disclosed in a statement that they had found Amirah and debunked the alleged kidnapping.
Amirah later tendered an apologized for misleading the public and the Nigerian police force. She claimed she had intentionally taken herself out of her house to those locations and starved herself for four days.
In her words,
"I intentionally took myself out of our house, went to these locations, entered bushes and dehydrated and starved myself for four days just like that, there was no kidnapping, nothing at all, I truly apologize and please pray for me. I Need it."
Safiyanu was arrested and arraigned at the magistrate's court in Zone 2 Abuja today, Wednesday, June 29.
The presiding judge, however, granted Safiyanu bail over mental health issues.