Lady Calls Cops On Husband While Pretending That He Is Pointing A Pistol At Her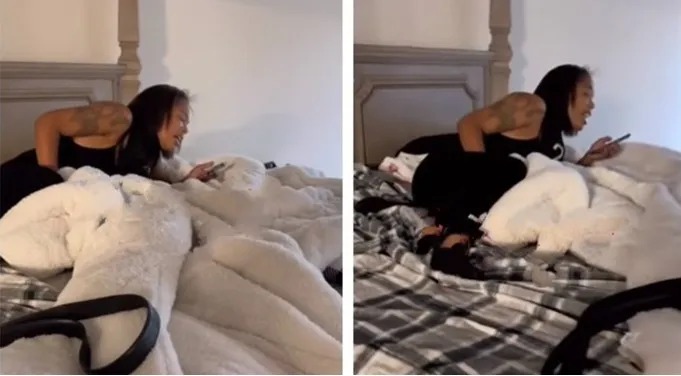 After attacking her husband, an African American lady got into a frenzied dispute with her husband and played the victim while involving the cops.
In a video making rounds on social media, the young lady reported him to the police following a domestic quarrel, alleging that he intended to hurt her.
The call attendant asked if she could leave the home, but the woman stated her husband was following her and had a gun pointing at her.
Her spouse was recording the whole dramatic scenario in which she pretended to be in agony and weeping stating that he pointed a pistol at her.
The guy who stood by as she set him up for arrest could be heard in the background disputing her assertions.
He claims in the video that she pepper sprayed him during their disagreement and then began behaving as if he was the one who assaulted her.
While on the phone, the woman continued to scream and levelled new accusations against her husband, who continued to videotape his evidence that he was innocent of the claims.
Watch the video below:
In other developments, a Nigerian woman living in the United States has described her ordeal in the hands of members of the Nigeria Police Force upon her return home.
The cops were harassing her and her uncle, and when they got into a fight, the officers boasted that they were better than cops in the United States and other nations.
She shared a video of her uncle travelling with her in a vehicle to a campaign spot in Lagos state when they were detained by police officials.
According to the young lady, the security personnel informed them that they were stopped because they were driving a campaign car.
They wanted to inspect her baggage for narcotics and weapons during the interview, and she agreed.
When they couldn't find a justification to detain or arrest them, the policemen started lecturing her on what makes Nigerian police superior to American cops.
According to one of the guys, they seized eight locally produced handguns, an uncountable quantity of ammunition, and juju used by criminals.
They persuaded the woman and her uncle to accompany them to the station so they could witness evidence that Nigerian police perform better policing than those in other countries.