La Liga: How did Barcelona do it?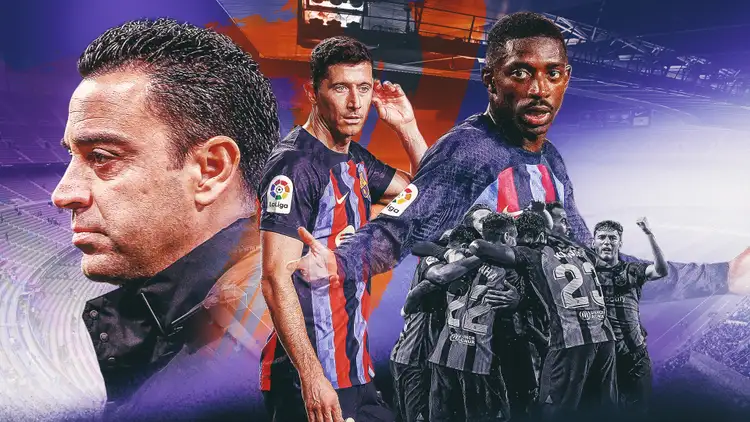 Barcelona has indeed seen a fall from grace that has been so far remarkable that their recent La Liga title triumph begs the one question; how did an uninspiring team do it?
Barcelona clinched their first La Liga title in three years under the leadership of manager Xavi Hernandez, bringing an end to their title drought.
However, their triumph has come with a notable shift in style, adopting a more pragmatic and defensive approach reminiscent of Jose Mourinho's tactics rather than the traditional "Barca way" associated with Johan Cruyff and Pep Guardiola.
When Xavi took charge of Barcelona in November 2021, he vowed to bring back the club's glorious style of play.
Fans hoped for an attractive and dominant brand of football that would not only secure victories but also captivate the Camp Nou faithful. However, the reality has been quite different.
Despite the recent 4-2 derby win against Espanyol that sealed the title, Barcelona's performances have largely been characterized as drab and methodical.
Although Xavi has delivered on the primary objective of winning the league, the lack of adherence to the renowned "Barca way" raises concerns about the future direction of the team and the level of excitement for the fans.
Nevertheless, Xavi deserves credit for instilling a stronger sense of identity and resilience within the team.
Barcelona entered the season perceived as trailing behind defending champions and arch-rivals Real Madrid in terms of pure footballing quality. Recognizing the need to adapt, Xavi shifted the team's focus towards solidity, resilience, and pragmatism.
While Barcelona can still showcase moments of eye-catching football and maintain possession effectively, their success has primarily been built on a strong defensive foundation.
The team has demonstrated outstanding defensive discipline, conceding a mere two goals at home in La Liga throughout the season. Goalkeeper Marc-Andre ter Stegen has also set a league record for clean sheets.
The resurgence of veteran midfielder Sergio Busquets has been another key factor in Barcelona's transformation. After spending a considerable period in a defensive recovery role, Busquets has been given the freedom to operate deeper on the pitch.
This change has allowed him to excel in intercepting, tackling, and distributing the ball, leveraging his exceptional skills in these areas.
Additionally, the emergence of young talent Gavi has made a significant impact. While Gavi has drawn comparisons to Barcelona legends such as Xavi and Andres Iniesta, his playing style is distinct.
The midfielder brings a relentless and combative presence, constantly buzzing around opponents and providing a much-needed physical edge to Barcelona's midfield.
Upfront, the addition of Robert Lewandowski has introduced a previously lacking physicality. The towering Polish striker fearlessly utilizes his height and strength to outmuscle opposing defenders, offering a different dimension to Barcelona's attacking play.
As Barcelona celebrates their La Liga triumph, it is clear that Xavi has successfully addressed the team's need for a cohesive identity and competitive edge.
While the style of play may not align entirely with the traditional "Barca way," the newfound defensive solidity and pragmatic approach have proven effective.
The challenge for Xavi will be to strike a balance between winning and captivating the fans with the attractive brand of football that Barcelona is renowned for.