Kizz Daniel humiliated on stage by angry fans in the United States (Video)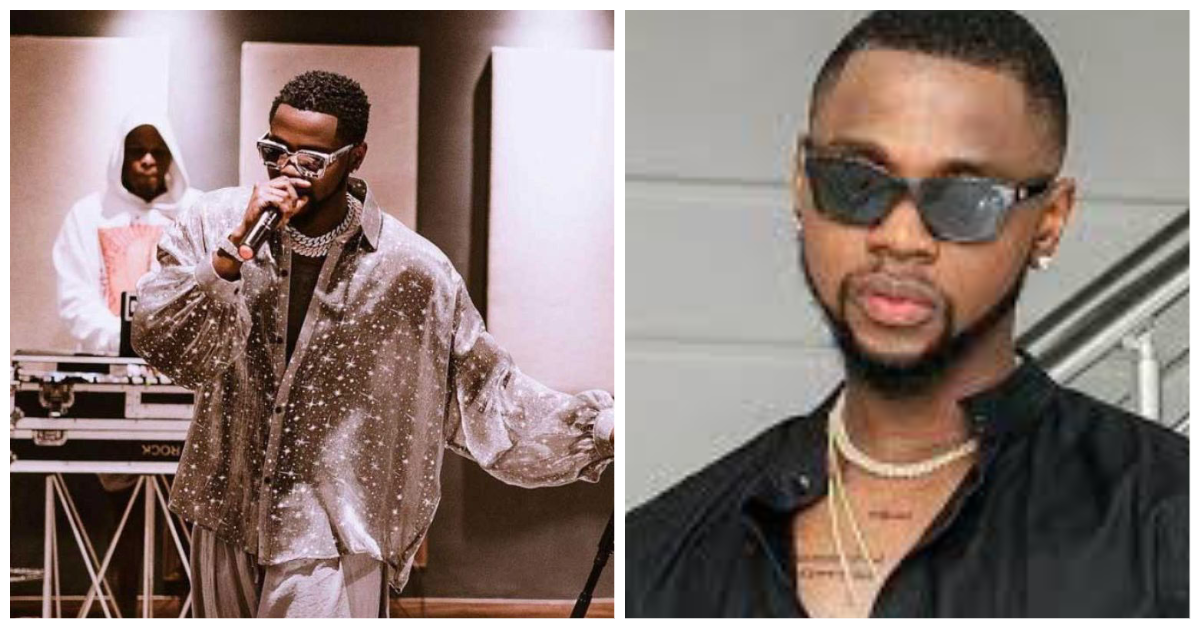 Award-winning Nigerian singer, Kizz Daniel has sparked outrage both offline and online with his performance at DMV.
The singer was called out for being 'unprofessional' after he ghosted his fans for hours during a concert in DMW, United States.
The singer was humiliated after he arrived late at the event and to worsen the situation, rather than taking the microphone and singing, he had the DJ play his song on repeat for 30 minutes.
Fans and concert-goers booed the singer on stage as they throw papers and cups at him, screaming for a refund.
Papers and cups were thrown at him as the crowds screamed for a refund.
As that wasn't enough, many took to Twitter to drag the singer, as they expressed displeasure at his behavior, vowing never to listen to his songs again.
Take a look at some of the reactions below;
Mandem, "I have deleted all of Kizz Daniel music off phone… clearly he doesn't respect himself….4 hours late just to have your voice covered by the DJ for 20 minutes. Never again. In fact never come back to the DMV.
Yinka, "@kizzdaniel Are you not ashamed?? Had ppl waiting for 4 hours because of Buga…..
Geldo Watat : Just left @kizzdaniel_news show in DMV. Very very unprofessional artist. His album should be deleted from every platform on the web. Showed up for an 8pm show at 11pm, played his CD for 30mins and left, as though we can't access on Spotify and other platforms. Never again….
PanafestUSA : @kizzdaniel show in the DMV was the worst ever. He came 4hrs late and was on stage for exactly 30min. Total disrespect for fans"
Daniel Regha : Kizz Daniel showed up late to his show, he kept concertgoers waiting for 4 hrs & got dragged to filth on stage, that's what I expect from Nigerians whenever an artistes not punctual cos these artistes especially A-listers take Nigerians for granted a lot. Thank u USA fans.
Series Abiodun : Kizz Daniel was 4 hours late to his show in USA only to perform for about 30 mins & the crowd weren't having it. Papers & cups were thrown on the stage as they screamed "refund" very typical of Nigerian artists when they have shows at home & they say charity begins at home.
DJ Borsh of the BUJ : How they booed kizz Daniel on stage in the USA, is what we should do in Naij to any artist that tries to come late to any show, I really don't want to be waiting till 4am to see anybody + refund
Watch the video below;
Kizz Daniel was 5 hours late for his show in America and the fans booed him and asked for a refund.

This is what we need to start doing in Nigeria so these artistes will rate us.

— IRUNNIA™ (@Irunnia_) July 8, 2022
This outrage is coming days after, Kizz Daniel was called out for snubbing a Tanzanian female fan who presented him a boutique of flowers during his arrival at the airport.
The singer who was in Tanzania for a tour had given a poor reception to a die-hard female fan who had waited for him at the airport.
However, his bodyguard took to the flowers and kept them for the singer.
During a press conference, Kizz Daniel apologized for his action.
He took the blame for his bodyguard's action.
According to him, he had reached out to the lady privately and offered his sincere apology.
He said, "Honestly I reached out to her and I apologized to her on my bodyguard's behalf".