Joeboy – "Somewhere Between Beauty and Magic" Review.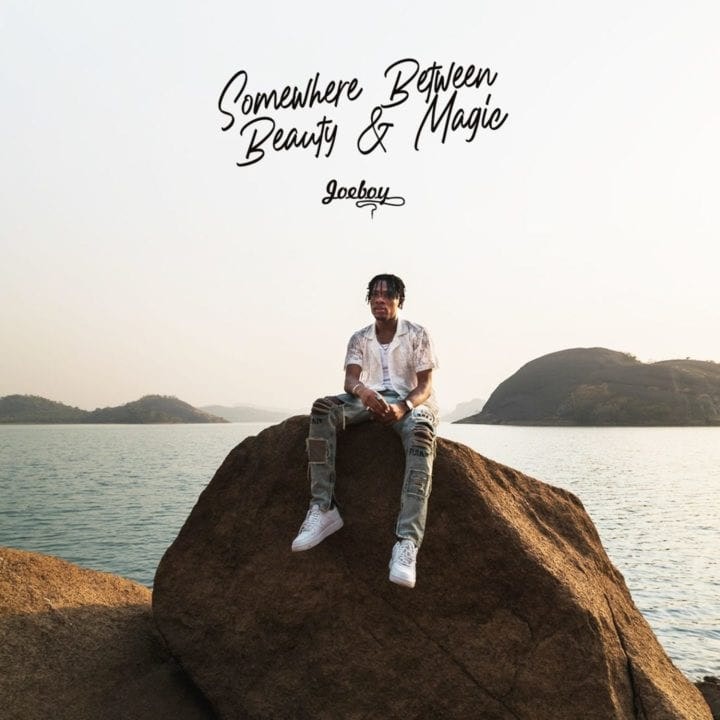 DOWNLOAD MP3 HERE


"Somewhere Between Beauty and Magic", is Joeboy's debut album that unfolds a strong cohesive 14-track which exposed his cheerful offering, given with pensive expressions of love and care; and in his myriad emotional cart moving smoothly, he is caressing many beautiful ladies and telling his side of the fascinating story through this project. "Beauty and Magic", strongly cuts across self and vanity, and hedonism that shares special bond with women. He apparently creates unforgettable moments for the project to last, with severe introspection and unshaking cohesion from start to finish prevailing with the powerful Afro-structural elements.

Joeboy has proven to be one, amongst the few new generation Nigerian superstars who's consistent with good music creation and transcending afro-structural synth and sonic cuts into wider cultural spaces. Joeboy's strong art, has always been built around sentimental gestures and never stops reshaping listeners feeling to love him endlessly; mostly close female listeners who barely have not taken breaks on loving his piercing soul records and, emotion penetration art. His 2019 "Baby", began the stinging love bug that takes us to his 2019 debut EP, "Love and Light", enriched with a passage leading his inner strength for records connoting love and emotion transition.

"Somewhere Between Beauty and Magic", almost clearly exposed Joeboy's philandering and his unwavering truth that draws a thin line in between. "Clean out, I no like pretence." Joeboy says for "Celebration", the track that closed the project as it was initially released in December, 2020 off the project that subtly opens up defining his lifestyle specially, behind his artistry and transition; emotion and love transit with various women. Opening with "Count Me Out", it was like a fine chilled wine ready to be tasted. As the 23-year old, Nigerian pop singer, Joseph Akinwale Akinfenwa, popularly known as Joeboy seemed to have experienced a bizarre clot in his art and he faithfully proclaims,  "I no say you dey think say me I no fit/You think say me I no reach/But I see say you no notice/But I stand fit/Dem go talk/Dem fit to yarn all they wanna say/But I no send the nonsense/I'm too blessed/God dey my side so you can't stress me/As I reach here e be like magic/I know you don't understand it ye/I drop hit/I drop smash hit/And na so go dey/I'm never stopping ye.." Joeboy sings, opened the project with the smooth mouth flute cut, playing underneath while he took us into his lovely classics made with encrypted access that only pure love and his sultry vocals would gently unlock. "Focus" began secondly and, it was sweet and fulfilling to quietly relax with as Joeboy takes us into his deep record roots, on every ends filling love renaissance. His 3rd track, "Number One"  also en-camped the same essence from the previous track. Now let's forge ahead to "Police", which armed and protected his loving and built security for his heart that loves many girls at default and, doesn't completely trust.

Joeboy's love paced ahead, pursuing higher synths as the love rebirth continued in "Door", opening his fifth track with a sense of great vibe that encamps stronger melodies as the synth traveled with melodic chords on Joeboy's fine vocal which melds forming perfection and molds a sharp edged delivery. The beauty of "door" was strong and very exceptional. "I wanna talk about the things/I wanna talk about the things wey I dey feel (things wey I dey feel)/I no dey say what I no mean/So if I tell you sey I like you e be real (ye).." Joeboy takes the melodies into higher plains and made something very hot and strong. The project recorded few hit records and "Door" is an executive ballad. "Show Me", was still beautiful and was directed towards a sharp end of his loving and countless emotion. "Runaway", simply married his 2019 "All For You" record off his "Love and Light" EP. It was really good at this point taking my mind to his laid back classic with very strong related essence in between to relax with; like it was a bit manipulated but held unto the same synth and piano that played like on the latter record. "Lonely", was melancholic as Joeboy played concern and leaves good interest for ladies feelings. He was simply against his fellow guys who play games with women's heart. He requested his woman's "Consent" on the bouncing sonic structure laid on here. It was quite exceptional and still strong as Joeboy seem to attach great value for women and he makes his point clear to players, like he doesn't play to win, as well. "Oshe", is a very playful strong beautiful song that he uses to express gratitude to his woman, he is happy for being with her and he sings melodiously. "Oshe, I'm happy I found you", he sings and rose the flag to very high extent on "Oh", using dance rhythm to create a powered effect with his native dialect and Nigerian pidgin that wires the song a feeling that would make listeners want jump to the dance floor to Jaiye. "OH", is filled with hedonism and fun, the typical Yoruba listener would really find this spot and would find it more fascinating and become very appreciative embracing it.

"Sugar Mama" was very exceptional, the sonic creation was fluent and tells about Joeboy's lucky experience finding a lover as he takes us to "Better Thing", which unveils Joeboy's act of selection. He loves better things including, better girls to chill and relax with. "Na who work, na go chop/Na when you get the money them go call you sure boy". At this point, Joeboy unravel truth in between the project. He loves to jaiye and hates pretence. "I no send I no send/I dey for high vibration". "Celebration" ends the project and tells the part of Joeboy that loves to faji and chop life with the good things by his corner. Joeboy, is a very creative pop star that never runs dry on delivering pop songs distinctively. "Somewhere Between Beauty and Magic" is a strong cohesive offering that marks Joeboy as a very strict Nigerian, Pop star ballad who loves philandering and won't stop dishing a like records to win many hearts – It's somewhere every girl would love to be.



👉Full Access to Complete Primary & Secondary Education Online👈
😎PASS WAEC, JAMB-UTME, NECO, BECE IN 1 SITTING. GUARANTEED💯