It's a prank – how comedienne Kiekie fell off stage at an award show (video)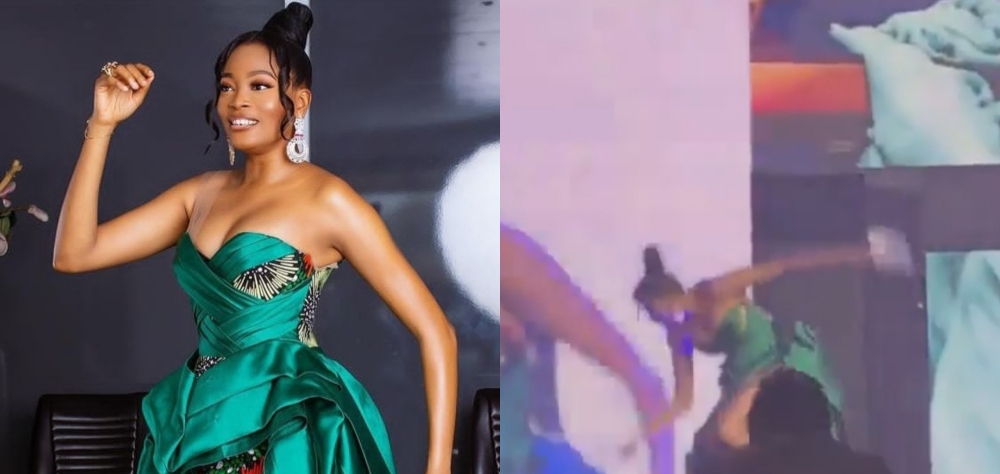 Nigerian comedienne and skit-maker, Bukunmi Adeaga-Ilori also known as Kiekie, was captured as she fell off the stage at an award show.
A horrible event was thought to have occured over the weekend at the 2022 Trendupp Awards, which captured how Kie Kie tripped and fell of the stage.
The video which has been trending on social media captures comedian Kiekie dressed in a stunning emerald dress, dancing when she suddenly tripped and fell off the stage.
Watch the video below
However, in reaction to the video, the skit maker claimed that it was a stage prank.
She said;
Guy! thank you for checking up on me I feel loved. however ignore the media, it was a PRANK those are the events knows that so don't worry I am fine thank you
In other news, a Nigerian man, identified as Ejiro Otarigho, has been praised after risking his life to drive a burning truck out of a residential area to save others.

The young man drove the flaming truck away to lessen the damage that it might cause if it exploded in a heavily crowded residential neighbourhood
This was said to have happened in Agbarho Town, Ughelli North, Delta State.

The senior special assistant to the Delta State government, Agba Abraham, who shared videos on Facebook of the heroic driver, revealed that he is alive and well.

The video showed Otarigho driving the truck to a bush path of a sparsely populated location.

"This truck driver Mr Ejiro Otarigho deserve a National Honours for averting National disaster that would have destroyed sources of lives and properties in Agbarho Town, Ughelli North LGA. See how the driver risk his life to divert the truck from town to safe environment. I urge revelant Authority both National and State to act. I have spoken to Mr Ejiro, he is safe and healthy.

"I just spoke with the Heroic driver Mr Ejiro Otarigho, he is Hail and healthy. Let's continue to share this post until relevant Agency act." Agba Abraham wrote on Facebook.