INTERVIEW: Why I'm returning to music – Omotola Jalade reveals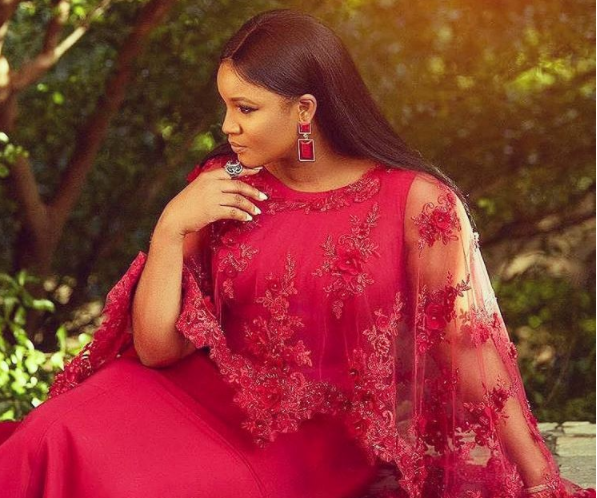 After 22 years in the movie industry, Omotola Jalade-Ekeinde, Nollywood actress, who was among the 2013 Time Magazine's 100 most influential people in the world, has surely made her mark as an actress. 
In this interview, the 39-year-old entertainer spoke about getting married early, music, her new movie Alter Ego, and how Nollywood has helped change the image of Africa in the diaspora.
---
What made you accept Alter Ego script? 
Every story has a soul, some come to you quickly and some writers don't understand that and then they give it to you at the end of the movie. The movie got me on time. I have a very short attention span, I don't like to waste my time so if the movie doesn't get to me in the first 20 pages, I might not read it to the end because it will be too much for me. With Alter Ego script, I understood what they were trying to achieve from the onset and I loved it but it was a diamond in the rough. I knew what we could do with it so I called the director and I said, "I see where you are going with this movie and I think it would be great but we are going to have to tear it and rebuild it. Are you ready?" A lot of filmmakers don't want to do that but he agreed on the condition that I was also involved.
It appeared like something you have been waiting for, is that right? 
It's not the first film that I will see that has prospects but some filmmakers are not ready, they don't have big minds; it takes a big mind to do Alter Ego. There are some scenes that won't make the final cut because it is a big movie and it takes a big mind to visualise where we're taking the movie to and they were ready, they inspired me.
There were times we worked through the night because it's not a secret that I have insomnia and I exchange ideas with the director through the night. If filmmakers are ready to push it, I think Nollywood is big enough. We have human resources, the wherewithal and tenacity. I have shot in other climes, I have shot in Hollywood and I understand why they have huge budgets, they go on breaks as they please and even postpone shootings based on weather forecast. Even Jamaicans that are rugged, I have seen them fear Nigerians because we have trained ourselves to work under any kind of circumstance. If we bring that and refine it so that we are not careless, I don't think there is any industry that can stand us.
The previous government appeared to be more supportive of the industry than the present dispensation, what are your thoughts on that? 
I think the government needs to wake up. They go around the world and they brag about Nollywood. Why would you brag about something you're not developing? It's not as if they are not doing anything but it's not enough. They need to understand that Nollywood is a force in itself, it needs a ministry of its own.
For a long time, Nollywood was the only thing Nigerians in the diaspora had to brag about Nigeria. We also have a problem in this country, we won't allow ourselves to be great because we know each other but we support white people if they try to do something. If people in the diaspora say anything bad about Nigeria, Nigerians there use Nollywood movies to show that there are mansions in Nigeria.
My daughter, who is schooling in America, had to show some students Nollywood movies because some of them think that Africans still swing from trees and have children with catarrh running down their noses. I just came back from India where I attended the African Development Bank convention about Agriculture.
Nollywood is the second employer of labour after agriculture. I think they are even lying, if they want to be sincere, Nollywood might be number one but they say Agriculture because everyone plants. That's how much Nollywood has achieved. I think it is a challenge to Osinbajo who is not in charge, it might take Buhari a long time to understand or be difficult for him because he is coming from another generation but Osinbajo needs to understand how important this is and quickly start steps that will develop the industry.
How have you managed to reinvent yourself after all these years? 
Knowing what matters and being authentic has helped me know how to remain relevant; hopefully, your authentic self makes sense. I'm blessed that from a very tender age, I found God and my Christian values helped me differentiate wrong from right. I like the real me and what you see with me is what you get so it helps me to be consistent.
With my job, dreaming big helped me. I dreamt big early in my career and the things I see, I have not even gone halfway. I also took it seriously, I have never taken my career for granted. I took it seriously from the beginning and I am taking it serious now. At times I deviated, I was able to find my core self back and coupled with being inspired, you can't go wrong.
Did getting married early help you? 
Getting married early is one of the biggest blessings of my life because I look back now and wonder if I would have been married now if I had not gotten married then. It's hard to find people you can trust and love you for who you are. I can understand what my other colleagues are going through, it's not easy. Getting married to my friend and a powerful man who is confident in himself helped me. He has allowed me to have that stability and still go out and fly.
You ventured into music at some point, what's happening to it? 
I want to get back to music so bad and I am coming back viciously. It's not like I cared about what people said before. I would have loved for my son to produce but we fight a lot. I used to complain a lot but I am now used to it. He's not a star yet and he already knows what he wants and pushes for it. I don't know if we can ever work together because we're both headstrong but I would love to work with him because he is a fantastic producer and I'm not saying this because I am his mother. I hope we can find a place we can work together.
I would love to do music in a way that I can be in concert, have something like what Barbara Streisand has. I won't be like a Tiwa Savage because that's her first career, I can't compete with her. I love music, almost more than movies. It's how I express myself, I write a lot and I love to perform.