The Initiative for Equal Rights to hold third edition of Human Rights, Sexuality and The Law symposium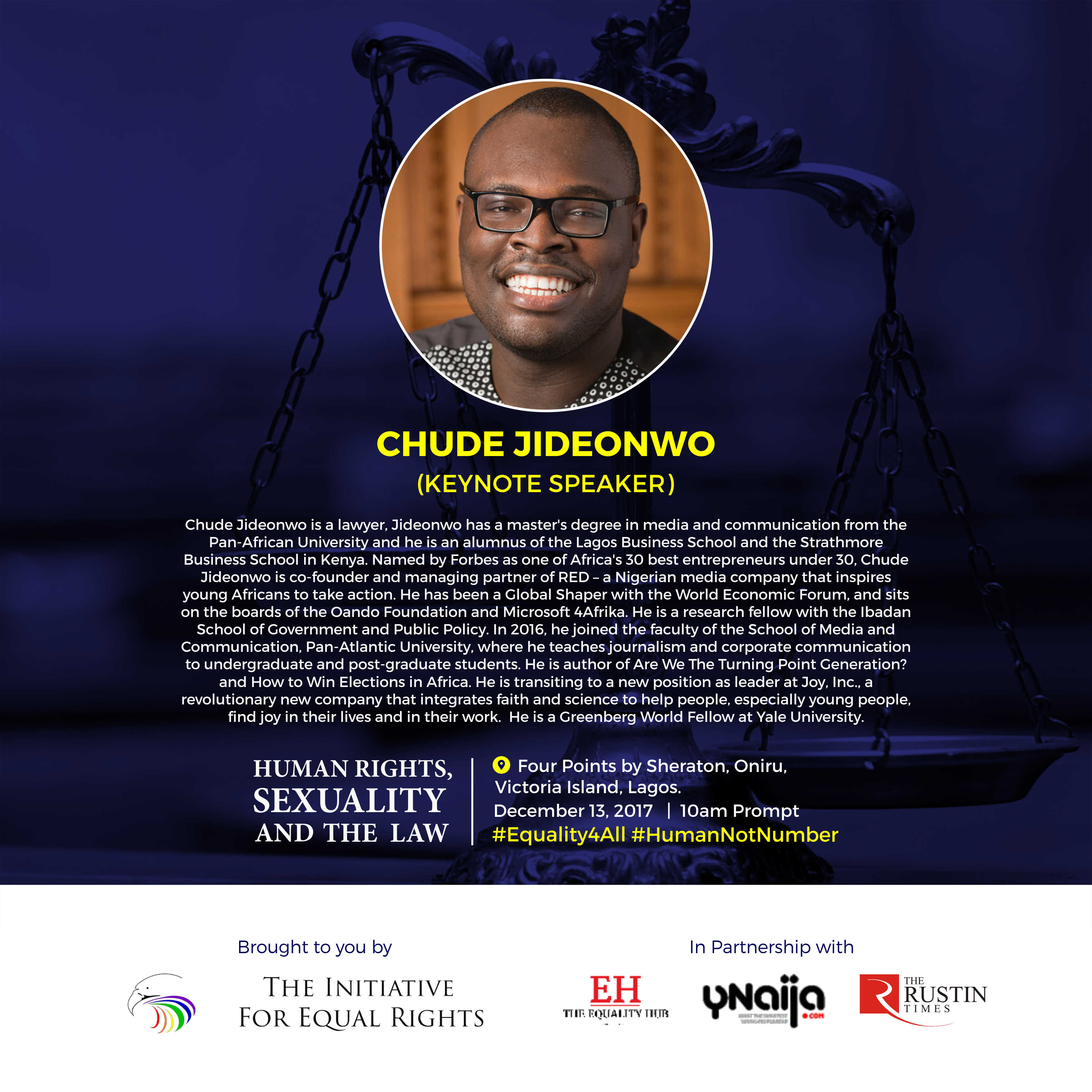 In commemoration of the International Day for Human Rights, The Initiative for Equal Rights (TIERs) in partnership with Y!YNaija.com, The Equality Hub and The Rustin Times, is set to host its annual symposium themed Human Rights, Sexuality and The Law.
The conference will take place on Wednesday, December 13, 2017 at Four Points by Sheraton, Victoria Island, Lagos, with Chude Jideonwo, Co-Founder, RED and Yale Greenberg World Fellow as keynote speaker.
As a platform for in-depth conversation on fundamental human rights and inclusion, the event seeks to explore cultural, traditional and religious ideas and their impact on the fundamental rights of sexual minorities in Nigeria.
It also seeks to create an earnest inquiry into issues of human rights violations in Nigeria and the seeming acceptance of inhumanity and mass infractions perpetrated against persons perceived to be different by sexual orientation or gender identity expression.
Speaking on the topic, Olumide Makanjuola, Executive Director of
TIERs, said that "the symposium provides an opportunity for
participants to explore cultural and religious concepts on the
treatment of human beings, and will help bridge the gap between
personal beliefs, moral values and human rights".
Moderated by Arit Okpo, panelists at the event include Victor Ugo,
founder of Mentally Aware, one of Nigeria's leading mental health
advocacy organisations; Wana Uduobang, poet, journalist and writer; Ayo Sogunro, lawyer and jurist; Dami Ajayi, doctor, poet and writer, Amanda Ihemebiri, psychotherapist; Papa Oyeyemi, a fashion designer; Shade Ladipo, media entrepreneur and social activist and Boki Ofodile, a lifestyle curator and feminist activist.