Indian Opposition Leader Sentenced For A Speech He Made In 2019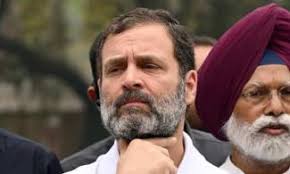 Indian opposition leader Rahul Gandhi has been sentenced to two years in prison in a criminal defamation case for a speech he made in 2019, in which he referred to thieves as having the surname Modi.
The Congress party MP was present in court for sentencing, which comes a year before general elections are due.
The criminal defamation case was filed against Gandhi by a leader of the ruling Bharatiya Janata Party (BJP). Gandhi was given bail and the sentence was suspended for 30 days to file an appeal against the conviction.
Free speech advocates have often argued that India's criminal defamation law goes against the principles of freedom and that it is used by politicians to silence their critics.