I No Wan Do POS — Corp Member Cries Out For Help As He Passes Out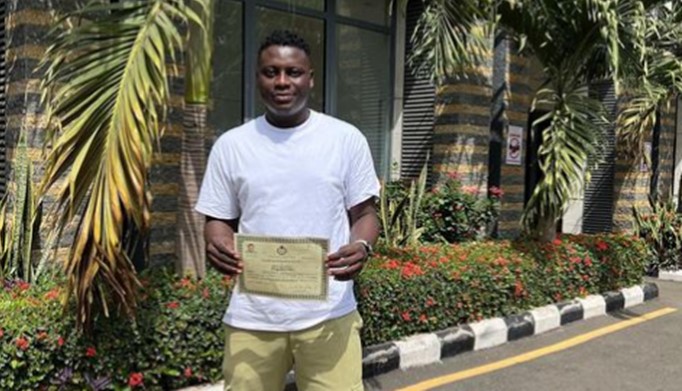 A young Corp Member, right after completion of his program, has cried out to people to help him find a job.
The young Corp Member, who just finished his National Youth Service Programme, NYSC., congratulated himself on the success of the programme, however, he pleaded to the public to find him a job.
Taking to social media, he displayed his NUSC discharge certificate and cried out for job opportunities, saying he does not want to become a POS operator like some graduates are doing today.
He shared a photo of himself and wrote; "Congratulations to me!! 🍫🎉 Abeg make una help me find job!! I no wan do POS!! 😭😭
Please my DM is open!! And yes I'm taking POP credit alert"
Meanwhile, a Nigerian man has told an interesting, yet sad story of the challenges he had to face from childhood to adulthood.
The man, identified as Obinna Gabriel, shared a story of his mother's dedication to working for their daily bread.
Gabriel had just concluded his mandatory one-year National Youth Service programme and decided to celebrate his mum.
The corp member revealed that his mum hustled hard to train him and his five siblings while living in a one-room apartment in Lagos state for over 32 years, since 1990.
According to him, his family was being choked by poverty and they were forced to always borrow money and food for survival.
It was not all gloom and sadness, however, as their condition did not stop the young man from doing well in school he said he was always taking the first position.
He shared photos on Twitter and wrote; "I write this with all of my heart. For 32 years now (since November 30, 1990, my mum came to Lagos), we have lived in one-room 'face me I deck you' in Orile Iganmu where my parents birthed all six of us.
My mum hustle real hard to see us survive. My dad (of blessed memory) did his best, though late now. Poverty held us by our throats, I can't forget one Chinedu whom we almost ruined with everyday garri and rice on credit (I hope I find him soon).
I somehow was brilliant in school. I was always taking first position in primary and my mum would always buy turkey for me every night of the day we collect report card. Bruhhh that turkey dey ginger me to serious. She was always proud to attend 'End of the Year Party' because her son must collect prize.
If you see me working hard and putting energy in my endeavors, my mum is my motivation, I need to change her life. I do everything possible to make her proud each time. When I won the State Honours Award in Kwara State (NYSC), she burst into tears amidst the crowd."