Huge stir as Nigerian pastor set for 'under aged' marriage in Edo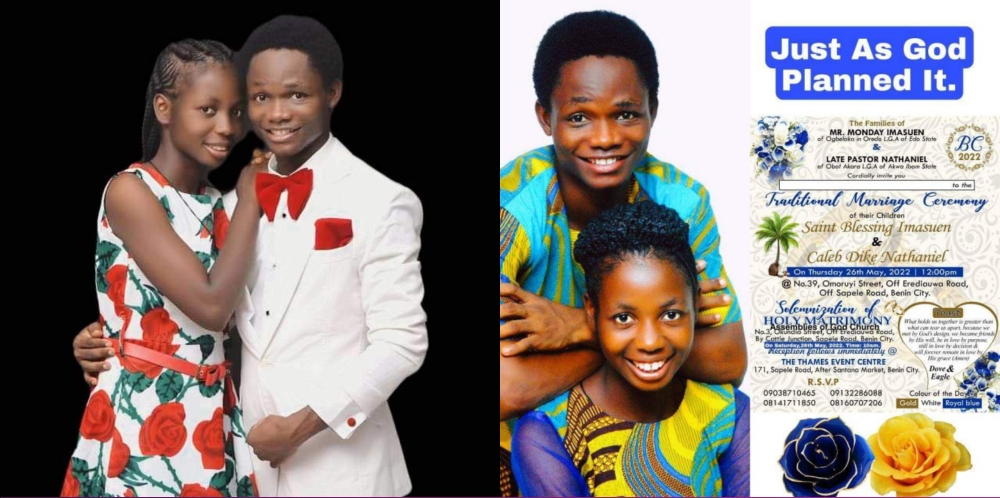 A series of reactions has set in as an Edo pastor announced that he is set to marry his love, in what appears to be an 'underaged' marriage.
Taking to his Facebook to announce his forthcoming wedding, a young Nigerian pastor, identified as Pastor Caleb Dike Nathaniel has caused a huge stir following his life decision.
The clergy who appears physically young shared photos with his fiancée, Blessing who also seemed no different in terms of age gap.
According to Pastor Caleb, the marriage is ordained by God as the wedding is scheduled to take place on the 26th of May 2022 in Benin City, Edo State.
The wedding has however gotten people talking as they point out how young the intending couple is in the prewedding photos.

Although it's unclear of the couple's age, netizens have however gone online to criticize their family for encouraging such a union.

See some reactions below,

@iamkingturun wrote, "How did God plan this one?"

__king.crib wrote, "This looks like child abuse to me. I hope they are above 18…."

@officialbobbyfederick wrote, "The question is where are their parents , do they have adults at home ? Cos this looks like they don't have adults in the house or is this a case of an only son trying to get married quick quick 🤷"

@mr_robmichael wrote, "Everyone involved in this should be dragged to the village square for serious flogging."
However, in further investigation, it appears that the cleric has a daughter identified as Osas Caleb, which made it uncertain about the young age of the said Pastor.