How truck crashed into a school bus in Enugu state, many pupils killed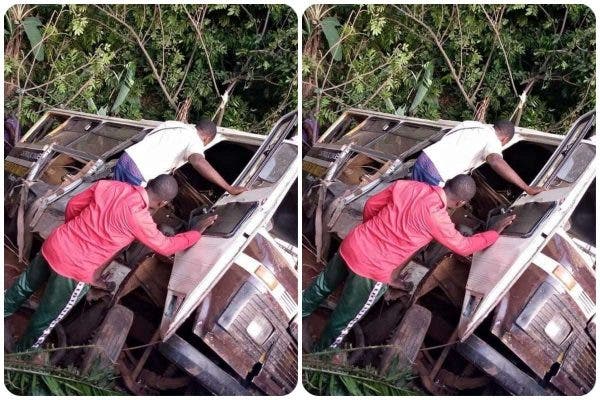 How truck crashed into a school bus in Enugu state, many pupils killed
Tragedy struck in Enugu state, as a truck crashed into a school bus, knocking it into a ditch and killing many pupils.
According to multiple reports, the crash occurred in Agwu community of Enugu state on Wednesday October 28, as a truck knocked a school bus into a ditch.
Duru Divinegift shared photos from the scene of the accident on Facebook, alleging that about 15 pupils, a teacher and others died in the accident. Sharing images from the scene, he wrote;
"#BLACKWEDNESDAY: School Children died as Truck crushed School Bus into a Ditch.

Why did I even witnessed this??

On the day time of 28th of October, 2020, Tragedy has befallen Awgu Town, Awgu Local Government Area in Enugu State as truck crushed a School Bus who is on the way to convey school children back to their various destinations into a ditch.

Not less than 15 Pupils + a teacher and other external adults who was affected by the accident, lost their dear life in the cold hand of death.others are been left in critical conditions.

Can't sleep tonight."
Achieve Straight-A(s) in WAEC, NECO, JAMB & more-Download ExamblyApp now FREE!
Join Us On Telegram
|
Promote Your Music