How I Built Nigeria's top broadcast training agency – Fola Folayan tells TopNaija Stories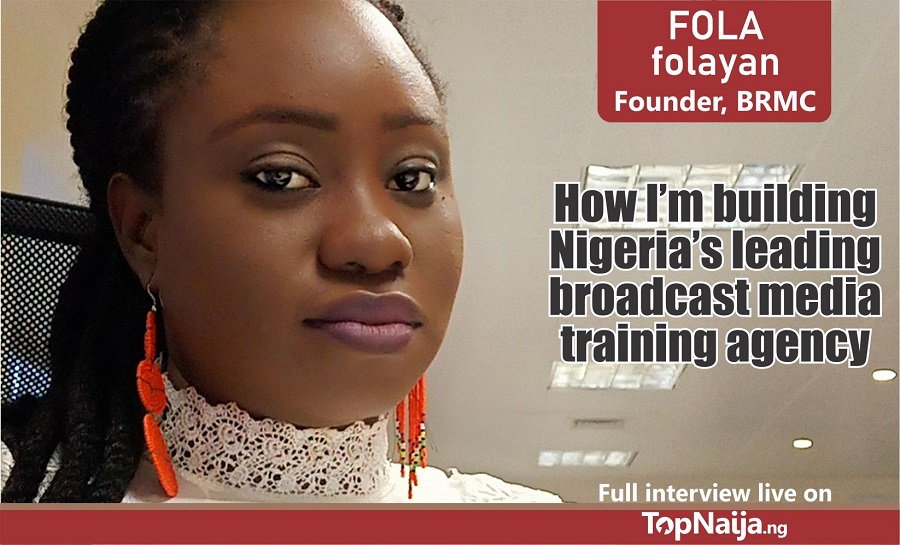 Fola Folayan is the Founder/CEO of the Broadcast Radio Master Class, a broadcast media training agency which she started in 2015. Through BRMC, Fola has trained and empowered hundreds of media practitioners for professional success. She shares her story with TOPNAIJA.NG in this insightful chat.
We don't want to ask the typical 'can we meet you' question lol, but for those who don't know, who are you and what do you do?
I'm Fola Folayan. A broadcast journalist and media entrepreneur.  I run a broadcast media training agency called Broadcast Radio Master Class (BRMC). We train aspiring broadcasters with a basic beginners curriculum and an apprenticeship method of learning.  We also connect our students to internship and job opportunities in the radio industry.
Tell us about your advent into entrepreneurship, how did you start your business?
I started the business in August 2015.  Back then, I just wanted to provide a platform where young people interested in the media could learn from mentors.  Then,  the inadequate training opportunities for people who are not necessarily communication graduates but are interested in a media career became obvious, so I stepped in to fill in that space.
Tell us about one of the toughest situations you've found yourself in as a business owner.
One of the toughest situations I've found myself in as a business owner is raising capital for my projects.  I still have to work a 9-5 job to put money in.  Running a media business takes tremendous investments and sometimes it can become tough but I'm taking things one step at a time.
Which business achievement are you most proud of?
One achievement that I am most proud of, is the partnerships I have been able to form.  BRMC is partnered with broadcast organizations and an employability training organization and that has helped us in securing a good training location and regular internship placements for our students.  That has been a blessing.
Describe your greatest weakness as an entrepreneur.
I think my greatest weakness as an entrepreneur is my networking habit.  I know I'm bad at it but I'm learning.
Which popular entrepreneurial advice do you disagree with?
I don't know if I disagree with any entrepreneurship advice now o lol. I'm still learning.  I do a lot of listening and I try not to underrate any advice.  You never know what will give you the breakthrough you have been waiting for.
Is there anything you wish you knew about entrepreneurship before you got started?
I wish I had learned how to save well and raise funds before I started.  Now I find myself learning on the job. It's tough.
What part of your job keeps you awake at night?
The question: how do I grow this business?  That's what keeps me awake.
What new innovation have you introduced to your business?
My apprenticeship model of learning itself is an innovation.  Using a curriculum specifically developed to teach people with no media experience or background and raising them to become professionals is what differentiates us.
What's the game plan for you in 5 years – personally and in business?
Game plan for me in five years personally is to be able to work entirely from home, so I can raise my family and devote time to writing my media training workbooks. In business, the plan is to have evolved into a full time academy.  and to have completed our broadcast studios and begin operations with our students on air.
Name three traits required to survive in this role.
Three traits to survive
Commitment
Passion
Resilience
Who has had the greatest impact on your career and why?
Oprah Winfrey has had the greatest impact on my career because in her I see a woman who didn't allow the media to use her, but who is instead using the media to fulfill her life's purpose. That's speaks to me a whole lot.
What is the best career advice you've ever received?
Best career advice I've ever received came from my lover. He said; "Do not take money over good working conditions".
The top reason for your professional success?
Top reason for my professional success is love for what I do.  I am in love with the media.
What's your number one tip for new entrepreneurs?
Learn, Learn and keep learning.  Do not compromise on financial planning too!
By what time in the morning do you like to be at your desk?
I like to be at my desk at 10am. That's when I'm fully ready for the day.
Your favourite job interview question?
"Why do you think you'll be a good fit for this job"?
The biggest perk of your job?
Access to information, places and people.
What does money mean to you?
Security.
Outside your industry, name one untapped business opportunity you'd love to explore.
Outside my industry, I'll love to explore the food and hospitality industry; most likely will own a specialty restaurant someday.
If you could, what would you tell your younger self?
I would tell my younger self I could do anything and be whoever I wanted.  I would tell my younger self to invest more in knowledge and to take better advantage of opportunities.
How do you unwind?
I unwind at home, usually under the covers.
Your candid advice for young African entrepreneurs?
Step out there. Speak up. Try it. You won't know until you do.