The Good, Bad And Ugly Of 2017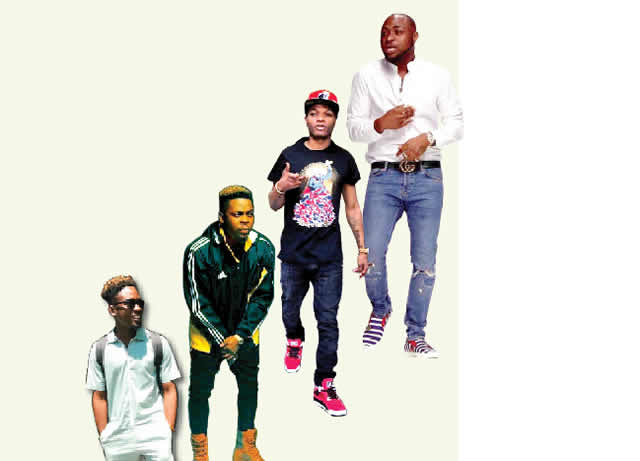 The outgoing year was a remarkable one for the Nigerian entertainment industry. It was characterised by lots of happenings and drama. These are some of the issues and personalities that gave us plenty to talk about
Davido
Popstar, David Adeleke, aka Davido, came into the industry singing at the top of his lungs that he is the son of a rich man. This was a break from the norm because most artistes, even the ones that are well-to-do, often prefer to portray themselves as people who lived in poverty before finding fame, so as to identify with the streets.
However, against all odds, Davido has continued to soar higher. The only highlight of his career in 2016 was the record deal he signed with Sony International. But this year, he came back bigger and better. He started the year on a high note with the release of his chart-topping single, If. The song was very successful and it became a street anthem in little time. David followed with Fall and it also topped the charts. To round off a productive year, the father of two released Fia, which is also dominating the airwaves right now.
Meanwhile, Davido also clinched a lot of top awards this year, including the Music of Black Origin award for Best African Artiste and MTV Europe Music Award for Best African Act, among many others.
Wizkid
When Banky W offered Wizkid a record deal about seven years ago, little did he know that the Holla at Your Boy singer would go on to rule the African music industry and enthral the whole world. Needless to say that 2017 has been a very good year for Wizkid. The singer spent the better part of the year jetting across the world and performing at some of the biggest stages on earth.
He started the year with Daddy Yo, and shortly after that, he released the hit single, Come Closer, on which he featured Drake. Even though Drake did not appear in the music video shot, that wasn't enough to dampen the enthusiasm that was generated by the song.
Wizkid released an EP, Sounds From The Other Side, which featured international artistes such as Chris Brown, Trey Songz, Major Lazer, among others. The Ojuelegba singer was also the recipient of many major awards, such as MOBO for Best International Act. He indeed, did a lot to draw the attention of the world to the Nigerian music industry. His Christmas eve concert was also a success, and he capped the year on a high note, reuniting with his purported rival, Davido.
Olamide
Olamide has practically become a force to be reckoned with in the industry. He released one of the biggest songs of 2017, Wo, and he also performed at several high profile events. He held the 4th edition of the Olamide Live in Concert at the Teslim Balogun Stadium, Lagos. The concert was attended by many of his fans who stated that they had a good time.
His 7th album, Lagos Nawa, was released in November, and several tracks off it are still enjoying airplay.
Mr. Eazi
Call him 'Mr. Controversy' and you wouldn't be wrong. Mr. Eazi was in the news a lot this year, and it wasn't always because of his music. The singer caused an uproar when he stated that Nigerian music is heavily influenced by Ghanaian culture. Nigerians did not take his claims lightly, and the artiste was seriously lambasted on social media.
However, beyond the controversies, Mr. Eazi did quite well for himself this year. His mixtape, Life Is Eazi, Vol. 1 – Accra to Lagos, was well received by fans, and enjoyed rave reviews. His well-publicised love affair with Femi Otedola's daughter, Temi, remains one of the highlights of 2017.
Tiwa Savage
Tiwa Savage was all over the place this year (no pun intended). She released her EP, Sugarcane, and it was a success as most of the songs received considerable airplay, especially All Over and Ma Lo.
Tiwa also performed at some of the biggest events of the year, wowing audiences every time she stepped on stage. Her brand affiliation with Pepsi made sure that she was more visible, as she appeared in the company's adverts, and was at many of their events. She was arguably the biggest female artiste of 2017.
Tekno
Augustine Kelechi, aka Tekno, has shown that he is here to stay. A talented singer and producer, Tekno's hard work finally paid off in 2017. He produced Davido's hit track, If, early in the year, and he also released songs of his own such as Yawa and Go. He was also enlisted by DJ Cuppy on her debut song, Green Light. Though he spent most of the year outside the country, Tekno's rating rose incredibly this year.
At the tail end of the year, he was seen hanging out with Canadian rapper, Drake, on numerous occasions and there are speculations that the duo is working on something together. Also, he split from his singer girlfriend, Lola Rae.
Freeze
Ifedayo Olarinde, aka Freeze, is fast becoming the most popular and controversial Nigerian broadcaster. This year, he spoke relentlessly on the issue of tithing and the flamboyant lifestyles of some Nigerian clerics. Freeze declared that it wasn't written in the Bible that Christians should pay tithes, and he lampooned the clerics for 'emotionally blackmailing' their followers. Freeze called his campaign, Free the Sheeple, and it seems more people are beginning to agree with him. He also enjoined Nigerians that instead of paying tithes in churches, they should directly helped the needy.
As confirmation that his 'rants' were getting on the nerves of some men on God, many popular clerics spoke against him in their sermons, and advised their followers not to listen to him. However, rather than being deterred, it seems Freeze is getting more determined, and he has vowed that he wouldn't stop till all the 'sheep' are delivered.
Simi
With her unique voice, Simi has been able to stamp her presence in the Nigerian music industry. Though she started her career as a Gospel artiste, she didn't become famous until she switched to secular songs.
This year saw her profile rising and becoming one of the biggest female artistes in the country. She released her debut album, Simisola, at the latter part of the year and it was met with a lot of positive reactions. She also performed at many top-notch events during the year.
Small Doctor
Temitope Adekunle, aka Small Doctor, was one of the artistes who ruled the airwaves in 2017. His hit song, Penalty, was one of the biggest songs of 2017, and it skyrocketed his fame and rating in the industry. On the strength of this, the diminutive singer performed at many of the top shows in the country and he rubbed shoulders with the high and mighty. 2018 looks promising for him if he keeps up the tempo.
✅Enjoy Complete Primary & Secondary Education Online>CLICK HERE!💃
PASS WAEC, NECO, BECE, JAMB & MORE IN 1 SITTING. GUARANTEED👌