Funny Reaction From Cristiano Ronaldo Following Bruno Fernandes Goal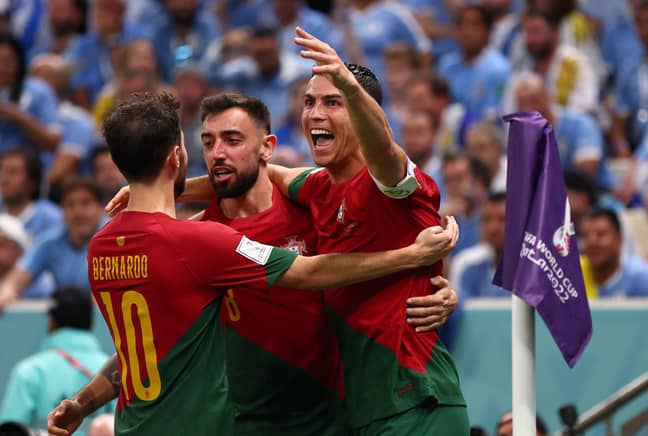 The media may choose to play the politics in the Cristiano Ronaldo and Lionel Messi debate despite being the ones to have ignited the flames, but you can't help but find humor in Ronaldo's personality as a competitive sportsman just there to have fun, which is exactly what his reaction to the goal awarded Bruno Fernandes was.
The five time Ballon d'or winner judging from his expression of being awarded the goal in the first place, found it quite hilarious when it instead went to his teammate, Bruno Fernandes minutes later.
With a 2-0 victory at the Lusail Stadium on Monday night, Fernando Santos' team advanced to the round of 16 and earned their second straight World Cup victory.
Although there is some controversy about the first goal, both goals were scored by Manchester United player Fernandes.
In the 54th minute, Fernandes sent in a cross that Uruguayan goalkeeper Sergio Rochet could not stop and found the back of the net.
Ronaldo gave the ball a quick glance, but he made no touch at all. The five-time Ballon d'Or winner continued to turn away in jubilation as though he had put Portugal ahead.
Ronaldo's awareness in the box was praised by the commentary on ITV Sport, which gave the impression that he had scored.
Those that were underground were in front of the curve. Much to Ronaldo's surprise, Fernandes' name and image suddenly appeared on the screen.
Ronaldo glanced at the crowd before reentering the center circle. He threw his arms in the air and smiled sarcastically when he saw Fernandes' name and number.
The 37-year-old is now one goal shy of Eusebio's all-time national team goal record at the World Cup with eight goals.
After Jose Maria Gimenez touched the ball while attempting a tackle, Fernandes doubled Portugal's advantage from the penalty spot in extra time.
After the game, Fernandes acknowledged he believed Ronaldo had touched the ball.
He said:
"I celebrated as if it had been Cristiano's goal. It seemed to me that he had touched the ball. My aim was to cross the ball for him.
"We are happy with the victory regardless of who scored. The most important thing is that we achieved our aim which is to be in the next round."
Santos, meanwhile chose to be political with his responses refusing to pick a side or get involved in whatever debate. The 68-year-old declared:
"Ronaldo played a great game but all our team played a great performance. I think it was a great match, our team played very well and the rest for me does not matter."
What a dodgy response from the smart ass, eh?
Check out his immediate reaction in exclusive footage from TyC Sport below.
Funny sequence 😂😂

The referee confirmed Cristiano Ronaldo that he scored the goal and he celebrates 🎉

Then the screen shows Bruno Fernandes 🖥

F ✊😔 pic.twitter.com/5w1T9U7L4Z

— Argies Football 🇦🇷 (@ArgiesFootball) November 28, 2022