Funny moment canteen displays poster of young man who frequently buys food on credit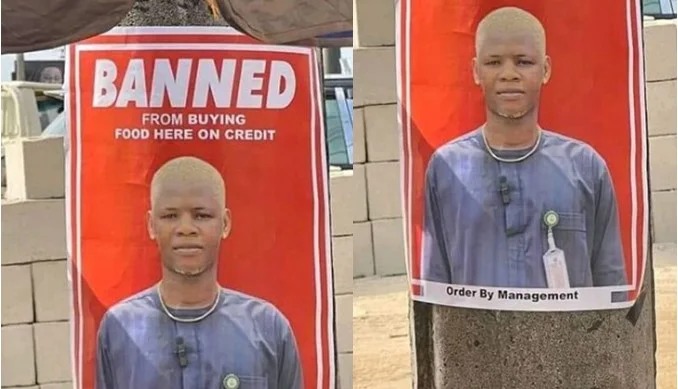 In order to prevent customers from eating without paying, a canteen owner has implemented strict measures at their establishment.
This includes printing a poster of a young man who frequently consumes food on credit, promising to pay later.
Unfortunately, the customer became known for being a serial debtor and an opportunist, leading to a ban from the canteen.
The poster serves as a warning to all employees to be vigilant and prevent any similar occurrences in the future.
The poster surfaced online and it showed face clearly with the words written; "BANNED FROM BUYING FOOD HERE ON CREDIT."
Social media users found the picture and the idea behind it very amusing.
damilolarrr; Which kind wahala be this 😂😂
national_don1; Him hang ID card o
rukayatsalihu046; First class creditor😂
classy_n_simple_21; Haa,Na his finest picture them come use.
temitope_omo; Somebody loml😂
temitope_omo; Wahala wahaler Wahalest 😂
anon_andy; See wetin them do Pablo😢
aneleezzy; 😂😂😂😂😂wetin be this naa
vval.bae; Money wey dem use do banner 😂
orangeh_official; 😂😂😂😂how much be this banner now
In other news, the President of Catholic Bishops Conference of Nigeria, Archbishop Lucius Ugorji has warned the Independent National Electoral Commission (INEC) and security agencies to ensure that all election results are uploaded to the portal for a credible, free, fair, transparent, and peaceful process in the upcoming governorship and state Houses of Assembly elections.
The Archbishop expressed disappointment that INEC failed to conduct a free, fair, and credible election during the previous presidential and National Assembly elections, and urged Nigerians to come out and cast their votes to make sure their votes count.
Anambra State Governor, Prof. Chukwuma Soludo, and Labour Party's presidential candidate, Mr. Peter Obi, were also present at the canonical erection of the newly-created Catholic Diocese of Aguleri and installation of Most Rev. Denis Isizoh as its pioneer Bishop.
The Catholic Papal Nuncio to Nigeria, Archbishop Anthony Guido Filipazzi, also admonished members of the new diocese to ensure that it didn't end as the only diocese and appealed to the Archdiocese to continue to give them assistance whenever called upon.