England Fans Prepare For The Worse Against Senegal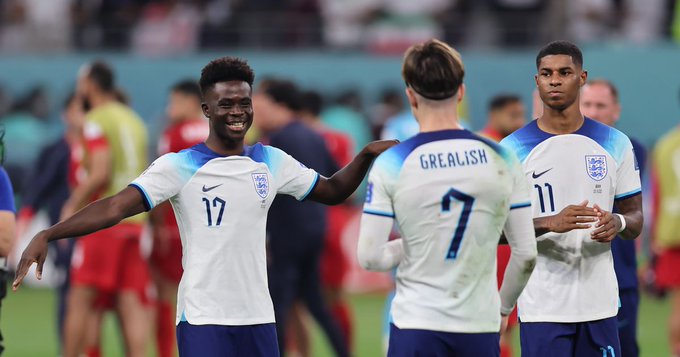 The world cup first round is fast coming to an end and thus bringing us to the very business end of the tournament where results would not matter based on points accumulated but how far a team digs in deep to grind out a win, and for England fans, the round of 16 is surely a worry against African side, Senegal.
In the event of a shootout in England's World Cup round of 16 encounter versus Senegal, the fans have picked who would take the penalties.
After defeating Wales 3-0 on Tuesday, the Three Lions took first place in Group B, earning a matchup with the winners of the Africa Cup of Nations.
It will be England's first knockout game of the competition, which means that if the game goes all the way, they might have to go to a penalty shootout.
From a poll conducted by sports publication, Sportbible, fans of England were asked to select their preferred first 5 penalty takers ahead of the knockout stages should the three lions be called on to take penalties as a decider.
Naturally, Harry Kane, England's preferred penalty taker, garnered more votes than Harry Maguire, who heroically converted a penalties against Italy in the Euro 2020 championship game.
In third place, ahead of Kieran Trippier and Bukayo Saka, who both missed penalties against Italy, is Marcus Rashford, who missed a penalty last summer.
Outside of the top five, Phil Foden, Jude Bellingham, and Jordan Henderson garnered the most votes.
The results gathered by the sports publication from the poll goes below;
Harry Kane: 163, Harry Maguire: 128, Marcus Rashford: 115, Kieran Trippier: 112, Bukayo Saka: 97, Phil Foden: 56, Jude Bellingham: 42, Jordan Henderson: 35, Raheem Sterling: 25, Luke Shaw: 24, Callum Wilson: 20, Eric Dier: 10, Jack Grealish: 7, Declan Rice: 4, Jordan Pickford: 2, Trent Alexander-Arnold: 1, James Maddison: 1
With a potential shootout on Sunday, England has not yet received a penalty in this tournament.
But Gareth Southgate admitted that his team have been practicing penalties even before the World Cup.
"We are in a good physical rhythm. We are practising penalties," he said.
"Harry would practice them before every game. It is part of what we do before tournaments anyway."