Emi Martinez Holds Mbappe Voodoo Doll During Parade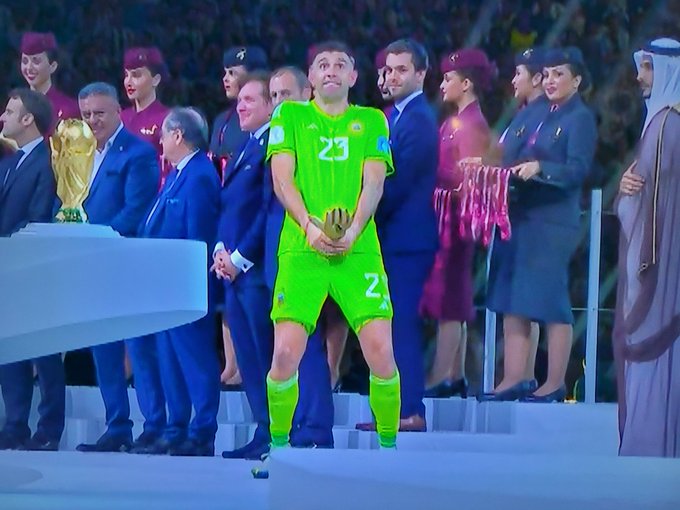 Talk about a footballer that is earning himself the moniker of football's greatest shithouse, then of course one has to appreciate Emi Martinez and his consistency to troll opponents, especially after victories.
Argentina and former Arsenal goalkeeper, has been known for his antics in annoying rival fans and players through troll antics on-pitch but this time, the Aston Villa star takes it a notch further off-pitch with a Mbappe voodoo doll during the parade after victory at the world cup final.
Emi Martinez, the goalkeeper for Argentina, attacked the World Cup parade on Tuesday while toting a baby doll with Kylian Mbappe's face on it.
Even worse, Lionel Messi, a teammate of Kylian Mbappe's at Paris Saint-Germain, was standing close to the Aston Villa goalie who was carrying the toy.
In the Qatar 2022 FIFA World Cup final, the Aston Villa goalkeeper saved the day by stopping Randal Kolo Muani from scoring with a crucial save in extra time.
In the shootout, he also halted two penalties, which helped his nation win the title in Doha.
In the dressing room of Argentina's victory celebration, he had earlier made fun of Mbappe.
Mbappe won the tournament's Golden Boot after scoring a hat-trick for France in the championship game.
The 23-year-old superstar, who won his first World Cup with France at the age of 18, has since been the target of Martinez's relentless derision.
Emi Martinez was spotted with a doll that included a photo of the France striker's face during Tuesday's bus procession.