Elderly woman dies after brutal attack by domestic worker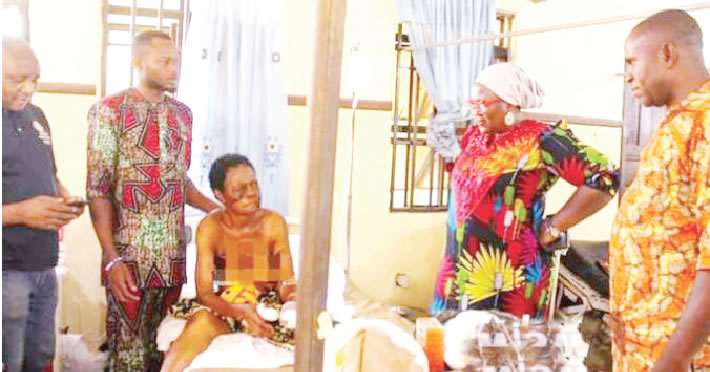 A 72-year-old woman, Mrs. Charity Okoli, who was brutally attacked by her domestic worker, Onyebuchi Ezeh, along with two other suspects, has died.
The suspects allegedly raped her and cut off her genitals, breasts, finger, and tongue for ritual purposes in her home in Umunze, Anambra State. She was rescued by her neighbors and taken to a hospital where she was recuperating until her untimely death.
Women from the community took to the streets to protest the death of Mrs. Okoli and demand justice for the heinous crime committed against her. The protesters, carrying placards with various inscriptions and green leaves, marched to relevant authorities demanding the immediate exit of all Abakaliki indigenes from their community.
Mrs. Enekwechi Bridget, the spokesperson of the protesters, expressed their demand for justice, stating that women should not face such torture and suffering at the hands of heartless criminals. Chief Hippolite Olua, the President-General of the Umunze Progressives Union, praised the women for their peaceful conduct and encouraged them to continue their peaceful protest.
The traditional ruler of the Umunze community, Igwe Promise Eze, expressed his deep sorrow over the incident and urged the community to remain calm while the police and community leaders work to ensure justice is done. The suspects are to be charged to court for murder, and the police have promised that the matter will not be swept under the carpet.
In the words of Chief Olua, "It is time for us to come together as a community and take a stand against such heinous crimes. Let us continue to demand justice for Mrs. Okoli and put an end to such barbaric acts."
This incident serves as a reminder that everyone should be vigilant and cautious when hiring domestic workers. Background checks and proper vetting are necessary to prevent such crimes from happening. As a community, we must come together to ensure that justice is served and such atrocities never happen again.