EFCC arrests Okorocha over alleged money laundering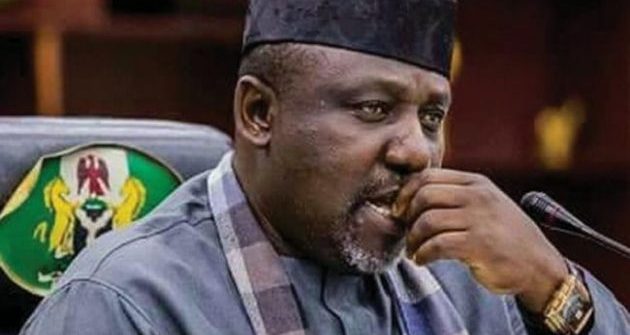 The Economic and Financial Crimes Commission (EFCC), on Tuesday, arrested an ex-governor of Imo State and Senator representing the Imo West Senatorial District at the National Assembly, Senator Rochas Okorocha.
Okorocha was arrested in Abuja and taken to the EFCC head office for alleged money laundering.
The EFCC representative, Wilson Uwujaren, affirmed the arrest of Okorocha but stated that he did not know if he would spend the night in custody.
"He was still at our office when I left, so I don't know if he would spend the night in custody or whether he would be released on bail," he declared this on the phone.
The Economic and Financial Crimes Commission had seized some property from Okorocha and his associates which were supposedly unlawfully procured while he was the Governor of Imo State.
A year ago, the Head of the EFCC zonal office in Port Harcourt, Rivers State, Usman Imam, disclosed that N7.9bn which belongs to Imo State was confiscated from the ex-governor.
Imam, who has been overseeing the ongoing probe of the ex-governor, disclosed that the commission refunded over N5.7bn to the state government to pay salaries and pensions of workers.
However, Okorocha, on Tuesday, declared that he was not arrested by the Economic and Financial Crimes Commission.
The ex-governor in a statement by his representative, Sam Onwuemeodo, declared that Okorocha only honoured an invitation by the Economic and Financial Crimes Commission.
The statement announced that the commission was investigating the activities of Okorocha as an ex-governor of the state following a request written by a previous governor of the state, Emeka Ihedioha.
The statement read in part, "The truth is that, Okorocha left as the governor of Imo State on May 28, 2019. And shortly after, the Imo State Government wrote petitions against him."
"The EFCC investigated the petitions and has been in various courts of the land with Okorocha, to that effect.
"And if the EFCC has decided to invite Okorocha for clarifications on the matters already in court, especially with a new chairman at the helm of affairs at the commission, there is nothing wrong with that.
"At the end of the day, we would know whether the commission will be withdrawing the cases in courts, or would continue with the cases.
"But to us, the commission is doing its job and should be given the needed cooperation. And Okorocha being a law-abiding citizen, would always cooperate with the commission over the matters in courts."