EFCC arrests nine internet fraud suspects in Enugu (Photo)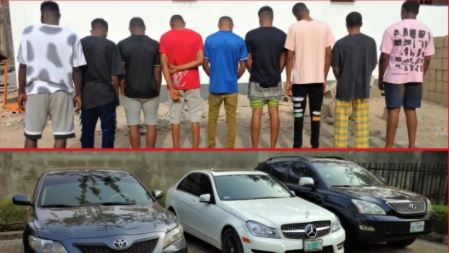 The Economy and Financial Crimes Commission has arrested nine Internet fraudsters coupled with their expensive cars in Enugu.
The nine suspects were caught and arrested by operatives of the EFCC at the Premier Layout, Ogui Mike axis of Enugu State. on Thursday, March 10, 2022.
Luxurious cars and Laptops were also retrieved from their custody as regards their arrest.

The nine suspects are: Napoleon Providence, Udenta Arinze, Chidiebere Jonas, Ezeh Obinna, Imonikphawae Lucky, Arinze Ugochukwu, Anieze Sylvester, Okonkwo Ifeanyi Evans and Ogugua Sopuruchukwu were all arrested based on verified intelligence which links them fraudulent impersonation and other forms of cybercrimes targeting unsuspecting foreign nationals.