DSS Reveals How Terrorists Planned To Bomb Abuja, 6 States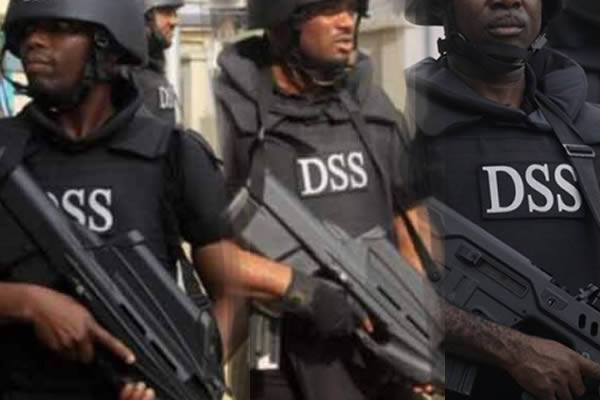 The Department of State Services, DSS, on Saturday revealed how suspected terrorists planned to unleash terror on selected six states and the Federal Capital Territory during the just concluded Eid- Kabir celebration.
The body said the sinister plan was spearheaded by Islamic State of West Africa terrorists whose aim it said, was to cause mayhem and destruction that would have disrupted the Eid-Kabir festivities held between Sept. 1 and Sept. 4.
The DSS stated that the plan was to conduct gun attacks and suicide bombings on selected targets in the Federal Capital Territory, Kano, Kaduna, Niger, Bauchi, Yobe and Borno States.
Spokesperson for the DSS, Mr. Tony Opuiyo, who made the revelation in a statement obtained by PUNCH, named Husseini Mai-Tangaran, who was described as a well known senior ISWA commander, as the mastermind of the plan.
Opuiyo said that the suspect had been on the Service and Nigeria Army radar since 2012, when he allegedly spearheaded the armed attacks on the office of the Assistant Inspector General of Police Zone I, on January 20, 2012, as well as other public places in Kano.
He was also said to be responsible for the deadly explosive attacks against worshippers at the Kano Central Mosque as well as an attack on a military formation in Yobe State in 2015, which claimed many of lives.
Opuiyo said that the suspect was arrested in Kano on August 31, and that further exploitation led to the arrest of one Abdulkadir Mohammed by the Service on September 2, at Kantin Kwari Market, Fagge, Kano.
Opuiyo said, "Mohammed was a fighter of the sect who left the conclave of the group in the Sambisa forest, to join ranks with Ismaila towards carrying out the attacks being planned by the group.
"Also, another accomplice in the plot, one Muhammad Ali was arrested on September 3, at Sheka area in Kumbotso area of the state.
"Prior to his arrest, Ali was the financial courier of the group in Kano. He was one of the conduits through which funds and other material logistics were channeled to the group from foreign extremist elements/sponsors.
"Like Abdulkadir Mohammed, Ali was involved in the plot to perpetrate the planned attacks in Kano and other states in the North during the just concluded Eid-Kabir celebration."                                            Source: pmnewsnigeria.com