Diesel sells for ₦950/litre as manufacturers risks shutdowns, job losses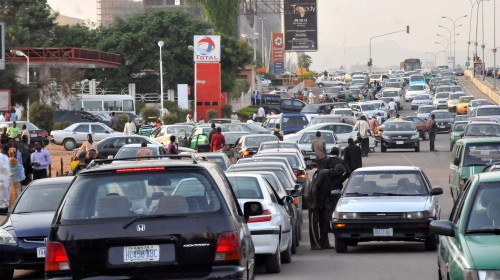 Nigeria's foreign exchange crisis coupled with the recent 7.5% Value Added Tax (VAT) imposed on Automotive Gas Oil, commonly known as diesel, has caused diesel prices to skyrocket to a range of N900 to N950/litre in numerous regions.
This alarming surge may result in the shutdown of several local factories, leading to a significant loss of jobs.
During a recent press briefing in Abuja by the Natural Oil and Gas Suppliers Association of Nigeria (NOGASA), it was revealed that the shortage of United States dollars is hindering the importation of diesel. Benneth Korie, the National President of NOGASA, pointed out that the price of diesel was merely around N650/litre before the introduction of the new VAT. He stressed the dire need for financial institutions, including the Central Bank of Nigeria, to come together to tackle the dollar scarcity, warning of its potential to cause even more economic disruptions.
Korie emphasized the importance of reviving Nigeria's refineries, suggesting that doing so would alleviate the pressure on the US dollar. "Our refineries, constructed by skilled labor, can be restored by the same. The continuous dependence on imports isn't a viable long-term solution. The activation of our refineries would substantially alleviate the current demand on our limited dollar reserves," Korie remarked.
Furthermore, Korie highlighted the deteriorating state of Nigeria's infrastructure, specifically mentioning the Port Harcourt-Warri road, where approximately 500 tankers have been stranded for two weeks due to its poor condition. He warned of the implications of neglecting these roads, asserting that it could disrupt the distribution of petroleum products across the nation.
Hamma Kwajaffa, the Director-General of the Nigerian Textile Manufacturers Association, expressed deep concern about the ripple effects of the diesel price hike on the textile industry. He revealed that several textile manufacturers are considering halting operations as they grapple with escalating expenses, primarily driven by soaring energy prices.
George Onafowokan, the CEO of Coleman Technical Industries Limited, echoed similar sentiments. He stressed the broader implications of the rising diesel costs, stating, "Every time diesel prices climb, everyone's costs surge. This affects logistics and power expenses. The ongoing challenges are severely impacting Nigerian businesses, especially manufacturers. The government must prioritize sustainable solutions, not just for the citizens but also for the enterprises that employ them."