Decentralized Africa Hackathon: Binance Giving Away $30,000.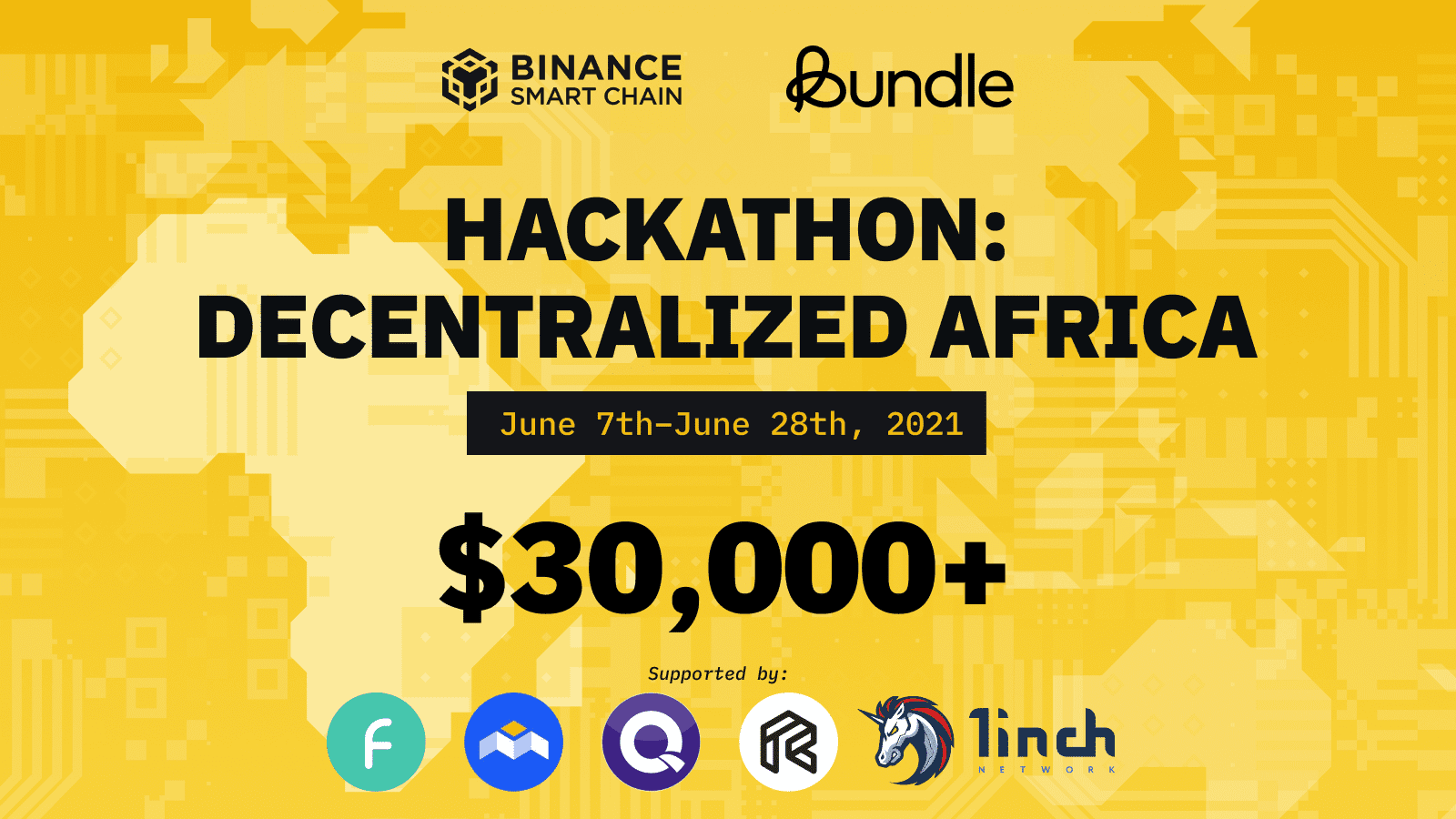 Decentralized Africa, is a hackathon taking place on June 6 at 5PM (WAT). It is the First Binance Smart Chain Hackathon for Africa and with many benefits. At the opening ceremony, the organisers will give in-depth information about the Hackathon and answer frequently asked questions from participants.
After Decentralized Africa, Binance will organize a DeFi & NFT hackathon from June 7th to June 28th, 2021. The 20-day hackathon will empower blockchain engineers to rapidly build blockchain solutions on the Binance Smart Chain. This is in order to solve real problems identified in the African systems today. It will be co-hosted by Bundle, a social payments app for crypto.
The platform completed an 8-week developer masterclass series that saw participants acquiring in-depth blockchain knowledge earlier this year. They also built top projects on the Binance Smart Chain.
The Hackathon theme, "Decentralized Africa", is dedicated to the development of DeFi, NFT projects. They cover Savings, Lending and Borrowing, Swaps, Royalties and Renting, Elections, Identity Management, Land Ownership, NFTs and other relevant areas. With a total Prize pool of more than $30,000.
Decentralized Africa Prize Pool
The prize pool of more than $30,000 will comprise of, a $10,000 provided by the Binance Smart Chain Investment team. The judges pick category will constitute $20,000. The DeFi, NFTs, and "Africa Hero" space projects are allocated the prize. Partners: Bundle Mobox, Refinable, Quidax, Fortube, 1inch makes it possible and limited exclusive NFTs.
Each user will have the opportunity to support their favorite project. The Binance Smart Chain investment team will also support projects and ideas at an early stage. This hackathon will allow both individual participants and organizations to participate in the financing of developer projects. All participants will be able to present their projects on the platform of developers DoraHacks ( HackerLink.io) and get a chance to compete for the main prize pool. They also compete for an additional prize fund from the community and sponsors!
Join the Telegram group here and sign up through the Hackerlink special landing page where all hackathon projects will be submitted. For more info, visit Binance's blog.
✅Access Complete Primary & Secondary Education Online>CLICK HERE!💃
PASS WAEC, JAMB-UTME, NECO, BECE ETC IN 1 SITTING. GUARANTEED FREE👌