Day 1: Social Media Week Lagos #SMWLagos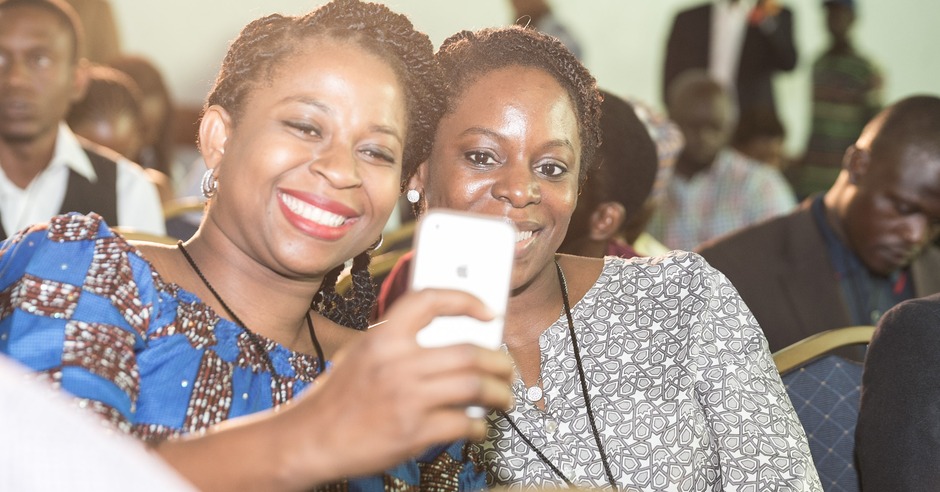 Social Media Week Lagos 2018 officially kicked off yesterday at the Landmark Event Centre and I daresay, it is the littest event I've ever been to- besides my cousin's wedding reception of course; the Jollof served that day is nobody's mate.
The event themed 'Closer' which would run from the 26th of January till the 2nd of March started on a bright note with series of sessions and for the first time in my life, I felt like a kid in a candy store. There were just so many sessions with great panelists I wanted to meet and learn from.
Because I am human and my superpowers don't include omnipresence, I was only able to make a few sessions.
I was at the OOTD Disrupt session which was moderated by Rhoda Ebun and had a star-studded panelist made up of Denrele Ebun, Rita Dominic, Maryanne Alabi, Jane Michael Ekanem and Angel Obasi.
During the session, Denrele talked about the negative side of his brand, including the fact that his sister got laid off from work because she was related to him. He also revealed that he's always had to prove a point even though he was a veteran media personality with over two decades of experience under his belt.
I came away with two things from this session. The first was a quote from Denrele,  'Dress smartly to camouflage your flaws and shine the spotlight on your assets'
Profound, right?
The second thing I came away with from the event is y'all fashionpreneurs need to pay Angel for her work. She seemed particularly vexed that she does a lot of free work and stuff.
The next session I attended was the  African Innovation: Disrupting From Within with the stellar cast of Yemi Adamolekun , Tolulope Adeleru-Balogun , Ayobami Aranmolate , Deji Oguntonade , Modupe Adefeso Olateju , Eunice Showunmi-Adeyemi.
I was also privileged to attend the Claudia Moore moderated session  PR & Branding: Challenging Africa's So Called 'Shithole' Narrative and it was a really insightful one with Nkechi Ali-Balogun almost starting a revolution on stage. JJ. Omojuwa also had some interesting perspective on the POTUS calling African countries a 'shithole', insisting that Trump was a victim and a consequence of Africa's passive branding.
I have my own theories on the faux pas made by the POTUS but since it's neither kind nor polite, I shall refrain from further comments.
My personal favourite session for the day had to be the  Social Media, Body Image & Confidence in Nigeria with Latasha Ngwube,  Uche Uba, Omotunde Adebowale David a.k.a Lolo and Chigurl.
To be honest, I only attended the session because a cute usher asked me to and not necessarily because I was trying to build my body confidence. The session weirdly felt like an AA meeting but it was indeed beautiful and a great privilege to hear people share their struggles with insecurity and body image. By the end of the session, almost everyone was singing LMFAO's 'I'm Sexy And I Know It' as they shuffled out.
There were other interesting and highly impact-full sessions but i can't possibly go into all the details right now.
Aha! Lest I forget, free boxes of Krispy Kreme doughnuts were shared at the event. It looked delicious but I didn't get and my home training won't let me go and beg.
We were also given a gift pack courtesy Stylist Curator…I'm not telling you what was inside. Next time, nobody would beg you before you register for the #SMWLagos.
I'm looking forward to an even more interesting Day 2 of the Social Media Week Lagos 2018.