Davido speaks on his relationship with Wizkid, says there is no beef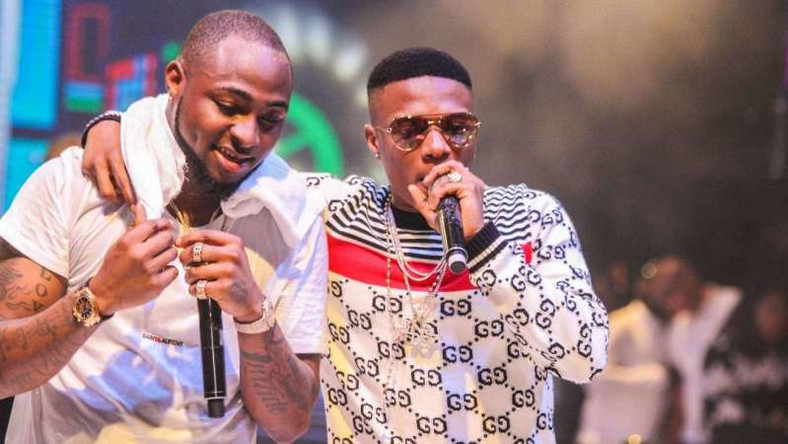 Davido has spoken up about his relationship with WizKid, revealing it is fans who argue and get toxic about his relationship with Wizkid and nothing more.
The superstar singer who currently is basking in the euphoria of his recently released sophomore album; "A Good Time," made this revelation in a recent interview he had in the United States.
The DMW boss said in the interview that although he and Wizkid have had their differences in the past, he revealed it was more because they were quite young during those periods.
He said being the two biggest Nigerian artistes, all they are focused on now is moving the Afrobeats culture forward rather that go at each other's throats.
Davido and Wizkid fighters can now drop their weapons, the war never happened…lol.
Watch the video below:
And we are here killing ourselves everyday on top DAVIDO and wizkid matter, lol I feel betrayed fam 😂😭😔💔 ❣❣❣❣ pic.twitter.com/pgf5zzC1hU

— A GOOD TIME JORDAN (@Talk2jordan_lee) November 27, 2019
Leverage social media to make more money and grow your brand in 2019! Attend The Social Media Wealth Masterclass with Isaac Click here to ENROL NOW!
Follow us on Instagram
|
Advertise With Us
|
Send Us News Tips
|
Promote Your Music
Ghanaian actresses, Moesha Buduong and Salma Mumin fight dirty on social media
Ghanaian actress, Moesha Buduong has taken a dig at her colleague, Salma Mumin over hers comments leading into a full drag season.
In an interview with Emelia Brobbey on her Okukuseku show, Salma emphatically stated that she will never forgive the curvy actress, Moesha or talk with her again over an undisclosed incident.
Salma said;
"I have forgiven all those who have offended me this year because there is reason harboring that anger…As for Moesha, she is someone I don't ever think I will talk to again. I don't know what the future holds, but she isn't someone I want to have a personal contact with."
Slamming her colleague over the comment, Moesha alleged that Salma thinks she is better than her because she publicly admitted to dating married men in an interview with CNN. She insisted that she is not that girl Salma thinks she can control.
Moesha also accused her colleague of dating married men and still dating some of them, while covering that up with her businesses.
She also accused Salma Mumin of being bitter because her butt surgery wasn't as successful as hers. Moesha wrote;
Salma Mumin who served a response to Moesha via an Insta-Live video stated that she has been quiet for so long which is why so many people misunderstand the situation and see her in a way she doesn't like. She also alleged that Moesha was fake which was why she cut her off.
Also reacting to the controversy about her age, Salma stated that she is not the first person to lie about her age and if she says she is 30 people should leave it at that and not add more it.
Here is the video below;
Leverage social media to make more money and grow your brand in 2019! Attend The Social Media Wealth Masterclass with Isaac Click here to ENROL NOW!
Follow us on Instagram
|
Advertise With Us
|
Send Us News Tips
|
Promote Your Music