Dapo Abiodun pays Tinubu a congratulatory visit, vows to support him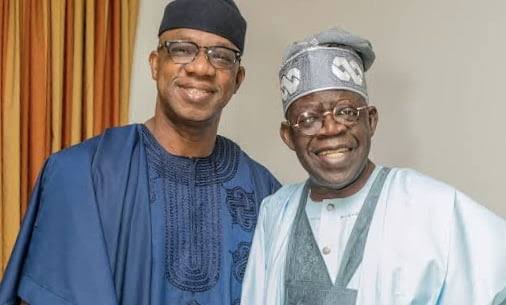 Dapo Abiodun, Ogun State Governor, visited the All Progressives Congress presidential candidate, Bola Tinubu, on Friday and pledged to support the former Lagos State governor in winning the 2023 presidential election.
Abiodun said his visit for the party's presidential candidate was to congratulate him on his victory at the APC primary. This he said on his Twitter page on Friday.
Sharing a picture of the visit on Friday, Abiodun said, "I paid a visit to our national leader, @officialABAT to congratulate him on his emergence as the presidential candidate of our great party, the All Progressives Congress, @OfficialAPCNg
"I also gave our assurances of support in the next political process that has now begun ahead of the 2023 presidential election."
It was reported that Tinubu had on June 2, 2022, while addressing the Ogun State APC delegates at the Presidential Lodge, Abeokuta, said without him,  Abiodun would not have been elected governor of Ogun State in 2019.
Tinubu said, "This one sitting behind me here, could not have become governor without me? We were at the stadium, they tore all his posters. Even the party flag, they didn't want to hand over it to him, I was the one who brought it.
"If he wants to meet God at the right place, he must know that he would not have become governor without God and me."
Abiodun however described Tinubu as a political warrior, serial winner and strategist.