Court blocks Okorocha's request to stop EFCC probe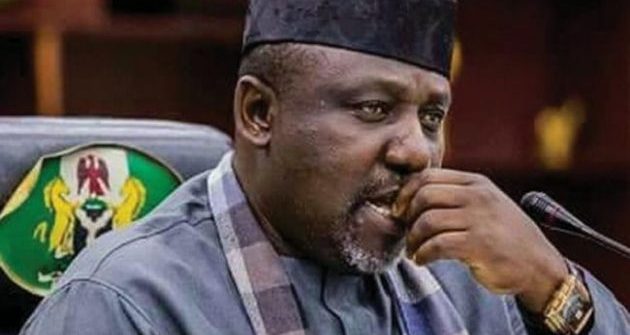 An Abuja federal high court has rejected an application brought by Rochas Okorocha, ex-governor of Imo state, seeking to stop the Economic and Financial Crimes Commission (EFCC) from investigating him on alleged financial violations.
The Imo state government had set up a panel to review all financial transactions of the state during the eight-year administration of Okorocha, now a senator.
On May 10, a committee said it uncovered N112.8 billion "dubious debts" owed the state by nine commercial banks. The EFCC is also carrying out its own investigation and saysit will prosecute the former governor. On May 18, 2020, Okorocha filed a suit seeking an order to stop the respondents from probing "the purported financial infractions".
He prayed the court to "direct the 1st defendant (EFCC) and the 3rd to the 10th defendants (the Imo state attorney-general (AG) and the Justice Iheaka-led probe panel on contract awards) to stay all further actions and proceedings until the 2nd defendant (the state AG) decides who should carry out the investigation."
According to him, it is unconstitutional for the EFCC and the panel of inquiry to investigate him at the same time on the basis of the same facts. At the court session on Wednesday, Joseph Madu, who represented the Imo state AG and the 3rd to 48th respondents, challenged the jurisdiction of the court to entertain Okorocha's suit.
Madu referred the court to a recent circular by the chief judge of the federal high court that all matters should be transferred to where the cause of action arose from.
"We are humbly applying that this matter is transferred to Owerri division of this court where the cause of action arose from," he said.
Madu advised the panel to suspend proceedings pending when the issue of jurisdiction is determined. However, Oba Maduabuchi, counsel to Okorocha, quickly interjected and urged the court to reject the application which he said was aimed at frustrating his case.
He prayed the court for an interim order directing all defendants to stop all their activities, pending when the motion on notice is heard and decided. Ruling on the applications, Ahmed Mohammed, the judge, refused Okorocha's request for a restraining order.
Mohammed also aligned with the undertaking by Madu to advise the probe panels to suspend sitting pending when the court decides whether or not it has jurisdiction to hear Okorocha's suit. The judge then adjourned till July 14 for further proceedings.