Chinese And Russian President Discuss Peaceful Resolution To Solve Ukraine Crisis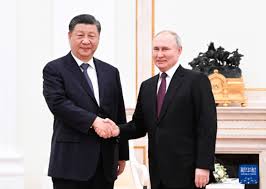 Chinese President Xi Jinping and Russian President Vladimir Putin have issued a joint statement emphasizing the need for a peaceful resolution to the Ukraine crisis through dialogue, while upholding the principles of the United Nations Charter and international law.
The two leaders also signed a joint statement on deepening their countries' comprehensive strategic partnership of coordination for the new era.
The statement called for respecting the legitimate security concerns of all countries and avoiding bloc confrontation, while opposing any unilateral sanctions not authorized by the United Nations Security Council. Both leaders welcomed the constructive proposals put forward by China for the political settlement of the Ukraine crisis and called on the international community to support relevant constructive efforts.
They also called for an end to all actions that could lead to tensions and prolonged fighting.