"Build a life you need not take vacation from" | Entrepreneur Samke Mhlongo speaks on her journey to financial freedom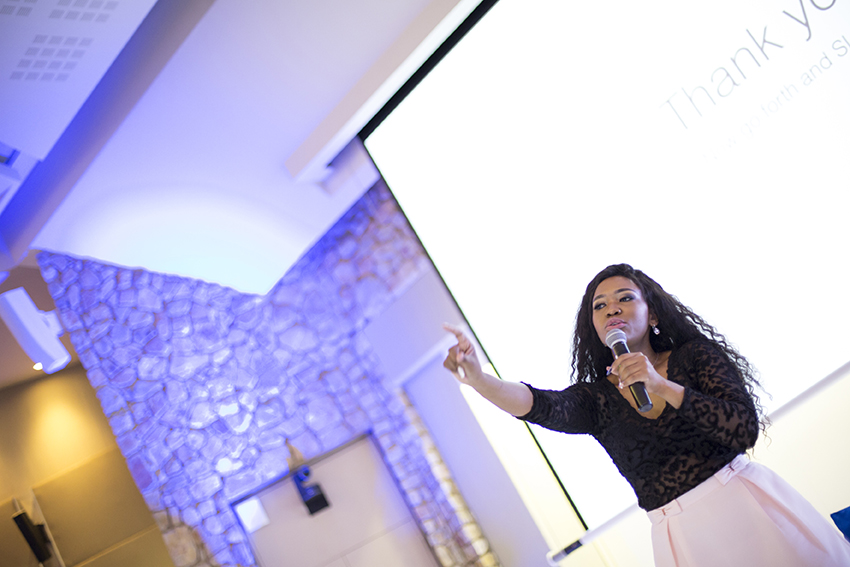 From her stormy divorce to losing her home and car, and having to figure out how to make ends meet on a budget that was a fraction of what she was used to, Samke Mhlongo has definitely overcome a lot on her road to financial independence. In this Leading Ladies Africa interview, Samke, who has become South Africa's most sought-after financial coach takes us on her journey to becoming the wealth coach that she is today. Be inspired by her story of grit, determination and triumph!
First of all, can we just say that we LOVE your name; it has a peculiar sound, what does it mean?
Thank you so much. The name Samke (pronounced Some-Care) is short for Sam'kelisiweSiph'esihle, meaning we have received a beautiful gift.
So what does Samke do, and why is it important?
LOL! I am often asked that question and honestly, it is one that I sometimes find difficult to answer. In summary, I promote financial literacy on various platforms. I do this as a financial wellness consultant via face-to-face consultations with individuals on their personal and business matters; as a media commentator on television and radio; as a writer of various articles and my children's entrepreneurship workbook; on stage as an MC, panel moderator and keynote speaker; and finally, in the classroom as a training facilitator. I refer to myself as a Wealth Coach as this term encapsulates the various roles I hold.
What I do as a Wealth Coach is important as financial literacy, which is the ability to understand financial concepts, increase financial sophistication, which is the ability to make sound financial decisions. Financial sophistication in turn fosters financial inclusion, which is the taking up and usage of one or more financial products, and this is widely accepted as a key driver for increased economic participation that will result in poverty alleviation. Financial inclusion is also recognised as an enabler of many of the UN 2030 SDG goals.
You are referred to by CNBC Africa as a "personal finance goddess"; how did your career in personal finance begin?
My career in personal finance started in 2010 when I joined Investec Specialist Bank as a private banker. I quickly rose within the organisation to be one of the top performing bankers in the team. I stayed with Investec for 7 years before leaving to pursue my entrepreneurial activities. I still maintain a very close relationship with the bank and its executives.
Did any part of your upbringing influence your attitude towards money?
Oh yes, absolutely! I was raised by my grandmother who became the breadwinner of our home after my grandfather fell ill. I saw her as a matriarch who made all the big-ticket financial decisions in our home, in consultation with my grandfather of course! As a result, I have an expectation that all women are to be afforded the same decision-making powers that my grandmother had, regardless of whether or not they are the breadwinners in their home.
We understand you didn't just wake up and become a financial expert, have you dealt with any major finance setback? And how did you scale through?
Yes! My divorce at the end of 2014. I lost my home and my car and had to figure out how to make it to the end of the month on a household budget that was a fraction of what I was used to. This had me asking how other people were coping and put me directly on the path to becoming the Wealth Coach you know today.
How I managed to pull through that difficult time was by using my story to help others avoid finding themselves in the same situation. Little did I know that public speaking is highly lucrative and pretty soon my coping mechanism was generating the same income as my fulltime employment.
What is your definition of financial independence? And how do you think the African millennial can reach that point of independence.
My definition of financial independence is simple – guaranteed freedom of choice.  I believe the African millennial can reach this point by guaranteeing a steady flow of income that can withstand changing political regimes; economic fluctuations; and the changing income-generating ability of the individual in question.
What are your thoughts on the importance of women in wealth creation?
It's very simple. We cannot possibly start talking women and wealth creation whilst there are still areas in some countries such as Zimbabwe, Kenya and Nigeria where a woman is not allowed to own land.
What is the worst money mistake you've made and what did you learn from it.
The worst money mistake I made was paying a former service provider 6 months in advance without first scrutinizing the contract or testing their work.  A lot of money was lost with that transaction, but I learned to slow down and do the necessary due diligence on a service provider before appointing them and handing over my money!
What tools/resources would you recommend for the woman who wants to get her finances in order?
A good financial advisor, a good lawyer, a good psychologist, and a good pair of black shoes!
What is the best financial advice you've received?
"If you carry on at this rate, you'll be broke in 3 months!"  Those are the words given to me by my personal Wealth Manager Musi Skosana after constantly withdrawing money from my investment in the early days of my entrepreneurship journey. That one sentence was very sobering and put me on track to start really analysing my lifestyle and generating additional income streams. Six months later he was the one receiving phone calls from me to advise that I have made additional deposits into the investment.
Do you have any women you look up to?
Plenty! My grandmother Joyce Mseleku. At 78, she has recently been promoted to principal of the Nursing College she teaches at – imagine!
I also look up to Mam' Judy Dlamini – Chair Mbekani Investment Holdings (South Africa), Aunty Evelyn Oputu – Executive: Bank of Industry (Nigeria),and my dada Valentine Njoroge – Sex writer and feminist (Kenya).
If you were to choose between buying a landed property and buying shares/stocks, which would you choose?
I would choose to buy shares over landed property for the following reasons:
A diversified South African share portfolio on average returns higher yields than landed property (assuming it is in an established area)
The cost of holding and trading shares is lower than the cost of holding property
It is easier to dispose of unwanted shares than of unwanted property
What are some common beliefs about money that are not exactly true in your opinion?
It is commonly believed that the ability to make money is the key to wealth. I believe it is the ability to keep and grow money that determines one's financial outcome.
Apart from the finance guru we know, what other sides are there to Samke? For example, what are your other interests? How do you unwind?
I always find it difficult to answer this question because my current career path actually started off as a hobby. What I do now for a living, is how I used to unwind when I was still in fulltime employment. My whole life feels like one big "unwinding"! LOL!
One of my favourite quotes is "Build a life you don't need a vacation from" by Rob Hill Snr. It captures the essence of my life right now. So, to answer your question, I unwind by perfecting my craft. Reading up on finance-related matters, going through social media to see how I can improve my pages and looking out for new opportunities for growth.  Does that make me a nerd? Eek!
What advice would you give to women who want to toe the same career path as you?
I would give those women the following three pieces of advice.
Start with Why
Start by asking WHY you are considering this career path. Is it for the glamour or status and recognition? Does it seem like a fool-option and
Is your heart in it?
A career in personal finance is possible if you have a penchant for numbers. A successful career in personal finance is possible if you have a heart for people and caring genuinely about their financial wellbeing.
Do it your way
One of the biggest contributors to my (relative) success in this industry is the unique approach I have adopted to finance. The truth is that I do not say anything new, or profound, or industry-shaking. Oh no! The magic lies in the "how". It's how I say it, using everyday language, adding hashtags, keeping it topical and trendy, and speaking in the language of my target market. If I had stuck to the script and conducted myself like all other finance professionals, I wouldn't be where I am today.
---
The Leading Ladies Africa Series is a weekly interview series which focuses on women of African descent, showcases their experiences across all socio-economic sectors, highlights their personal and professional achievements and offers useful advice on how to make life more satisfying for women.
It is an off-shoot of Leading Ladies Africa, a non-profit that promotes women empowerment and gender inclusion for women of African descent. 
Do you know any woman of African descent doing phenomenal things? Send an email to [email protected] and we just might feature her.
Leverage social media to make more money and grow your brand in 2019! Attend The Social Media Wealth Masterclass with Isaac Click here to ENROL NOW!
Follow us on Instagram
|
Advertise With Us
|
Send Us News Tips
|
Promote Your Music
Ituah Ighodalo speaks on why God allows bad leaders, marriage and more
Founding Senior Pastor of the Trinity House and managing partner of SIAO, Ituah Ighodalo, speaks to JOY MARCUS about life, business and love
As the General Overseer of Trinity House Church, what are some of your responsibilities?
My key responsibility is to give the church vision and direction as led and instructed by God. God has a purpose for Trinity House. My job is to receive from God what the mission and purpose of the church are and communicate with the people. The second responsibility is to lead the people into the worship of God, because God is a spirit and they that worship him must do so in spirit and in truth. My third responsibility is to be a shepherd to the flock, to look after the flock and make sure that they are alright and their needs are met. So, after a very exhausting service, the sheep come and I listen to them, and try my best to take away the issues that are bothering them. Then, I try to solve those issues because as a pastor, you must have a very good listening ear, compassion and patience for God's children.
As an accomplished accountant, how do you combine the demands of the church with that of your profession?
I take life one day at a time and life is a collection of activities in a serial fashion. When it is time to do accounting, I do accounting, and when it is time to pastor I do just that. There is a time for everything and none disturbs or affects the other. Also, an accountant is like a shepherd to a company. So, even the skills are similar. It is just the market that is different. I am still in active practice as an accountant. I am a managing partner of SIAO which I run with two major partners and a few associate partners. We are about the fifth largest accounting firm in Nigeria today.
As the manger partner of SIAO, what are your responsibilities?
I am a managing partner; so, I am like the pastor of SIAO also. This means I look after SIAO and cast the vision. I look after the staff, get jobs and clients and I allocate responsibilities to members of the team. We have a board of partners, and a gentleman, called Robert Odiachi, is currently the chairman of the board. However, we do rotate this position, and Odiachi is formerly the managing director.
What was the reaction of your family members when you told them you wanted to go into full-time ministry?
To be honest, I didn't tell them. I just went into it and they heard. When I got into active ministry, I wasn't married; so, I had no wife to discuss with. My wife met me in ministry; she had to take me as she met me. Also, I had nobody I was accountable to. When I got into ministry actively, my parents were already old. I can't even really say the exact day I got into active ministry. It just happened bit by bit and I got more involved. The key person that prayed for my salvation was my mother, and God answered her prayer. That was how I became born again. However, she got more than she bargained for because I am sure she never thought I would become a pastor. All she wanted was for my soul to be saved. As a nominal Christian, I was a very active person – socially and economically. I had a lot of energy; so, as soon as I became born again, I switched my social energy into Christian energy and very quickly, I started doing things because I was very passionate about God. I believe that God really had a purpose for my life.
What was your experience during the first few years of ministry?
Ministry crept on me; it wasn't a bang. I got born again in 1993 and I became a worker in Freedom Hall. When you become a worker, you do things like ushering, holy police and chorister. I went through that and very quickly, I became an assistant pastor. I started assisting our lead pastor at that time, Tony Rapu. Then, I was put in charge of international evangelism and travelling the world, starting churches and supporting church growth. At a point, I was also in charge of the General Overseer's international protocol. So, whenever he wanted to travel, I made his travelling arrangements. I had one responsibility after the other. Then one day, a co-pastor suggested to me that I take over the parish he had started in RCCG called Christ Church because he wanted to relocate to the United States. He wanted somebody he thought could handle the church very well. When he made the suggestion to me, I initially refused but after praying and hearing from God, I started as pastor in charge of the church. That must have been about 1999.
Since you left the Redeemed Christian Church of God, are you still close to the General Overseer, Pastor Enoch Adeboye?
Definitely, we are very close. We were close then and we are still close today.
But there were rumours that you had a misunderstanding?
As far as I'm concerned, we had no misunderstanding. He just gave instructions through the board of trustees that they wanted me to stop pastoring Christ Church, and I left.
What can you remember about your mother, Folayegbe Akintunde-Ighodalo, the first female permanent secretary in Nigeria?
I am very fond of her. There is almost no day I don't think of my parents. I have many fond memories of her. I was a sickly child who used to suffer from asthma. I was so attached to my mother that if she travelled, I would have asthmatic attacks. In those days, whenever she came back from work, I and my brother would stay by her side and be pulling her cheeks. My mother was very strict but also very loving. One day, she got tired of us hanging around her and she drove us to the bedroom which ended that. She then woke us up in the morning to do our house chores. We thought she was too tough but she gave us independence very early. I started driving at the age of 14. Sometimes, I even took her on journeys. She was tough but she also gave us freedom. She taught us ethics and morals to behave rightly. Also, she allowed us to take decisions about our lives. All the decisions I made about the schools I went to or the courses I studied were never influenced by any of my parents.  They made suggestions, no doubt, but they allowed one to make one's own decisions. My father was also strict and morally upright. But he was a gentleman who was firm about how things should be done.
Who did you take after?
I have a combination of both. I have my father's gentleness, while I have my mother's drive, energy, fearlessness and determination. My father was also a courageous man. He could face anything and was a real hero but he was very quiet about his own.
As one of the top pastors in Nigeria who mixes with the crème de la crème of the country, would you say it is easy convincing the leaders in the country to change their ways?
A lot of them are gospel-inclined these days. You also have to understand that many of them have been my friends since childhood. We just didn't become friends yesterday. We were friends as teenagers and young men struggling together to make headway in life. We were also part of one another's lives. It is just that destiny has taken every one of us to different levels. One of my jobs is to support them and speak truth to power. I think a lot of them acknowledge the fact that if they want counsel, support, honesty and forthrightness, they can talk to me. They always hear the truth from me. A lot of times, they take the advice but sometimes, when people are powerful and are surrounded by a few less powerful people who kowtow to them, they could get carried away. However, people like us are there to pull them back gently and remind them of where they are coming from. All we want is for the country to grow, for every single Nigerian to have opportunity to be who God wants them to be, and to allocate our resources to educate every Nigerian.
Do you have any interest in politics?
I have a lot of interest in leadership and the process of attaining leadership. As of today, I am not an official member of any political party but I am interested in working with people who are in power and are interested in getting into the service of humanity in any way. I work with the Peoples Democratic Party, the All Progressives Congress and some other political parties; whatever it is, as long as they are serious people who will serve Nigerians. You know the Bible says that the king must serve the people. The advisers of David told Solomon that if he serves the people, they will eat out of his hands and love him. A lot of our leaders are not ready to serve the people and that is why society is in its current state.
If you were to be president, what would you do differently?
If I were to be president, every Nigerian will be educated. That is a sine qua non because without education in this day and age, no one is going anywhere. Secondly, every Nigerian will be fed because there is more than enough food and the potential to grow food in Nigeria, than for anybody to go without food. Also, every Nigerian will have access to basic health care. It may take time to ramp up to complicated health care but it will be basic health care. It won't be free of charge but it will be affordable. When you have these three fundamentals and there is freedom of expression, then you have a basis to build a society and nation. Then, you start talking about infrastructure and amenities. There are more than enough resources in Nigeria for everyone to be a millionaire. All we need to do is unlock the tap and allow people access to the resources that God has already provided.
What role do you think the church can play in ensuring that the country moves forward?
The church has a very significant role to play in any society. Even in England and America, their constitutions are based on the Bible. Most constitutions in the world are derived from the British constitution. The major role, which the church should play, is to teach people the ways of God; then, to tell the leaders and the rulers what God is saying. That was what Nathan said to David and that has always been the way God moves. The role of the church is to anoint the king. What judges do today by swearing in people to office used to be done by the church. Till today, the Queen (of England) cannot assume that position unless she goes to St Paul's (church) and the Bishop of Canterbury anoints her as Queen of England. It is the church's duty to anoint and pray for the leader, and to give the people hope. Meanwhile, that is what a lot of churches in Nigeria are known for doing now. They talk about hope in such a way that it is almost motivational.  There is no leader who can win without giving hope. Winston Churchhill won the Second World War for Britain by giving hope and encouragement to the people. A bit of that is lacking in Nigeria today and that is why the people want to hear from their leaders. Sometimes, God raises bad leaders to teach the people a lesson. Also, the church must work with and support the government. In those days, churches provided schools, hospitals, basic health care and feeding of the poor. So, the church must continue to set up schools and hospitals. People like Mary Slessor and Mother Teresa were church people supporting the government. Most of the first schools in Nigeria were started by the church. The CMS Grammar School, Freeman and Baptist Academy, Methodist Boys High School and St Gregory's were all founded by the church.
Before now, the church was the succour for the hopeless, where they believed that they could be safe but it is no longer so as worshippers run the risk of being kidnapped or killed in the process of serving God. Why do you think these things are springing up these days?
There are different reasons for these attacks. I recall that some time ago, there was an attack in a church in a part of the country. I don't know if it is true but I learnt that the attack was gang-related. Sometimes, some of our members don't behave well and they think they can hide in the church. Then, there are attacks caused by religious intolerance. I think there was a church in Sri Lanka that was bombed and a mosque in New Zealand was attacked too. Now, our people are whipping up a lot of religious sentiments because there is the thinking that some certain religions want to dominate others and influence the world. So, there is a lot of tension everywhere which is leading to attacks on the church. Also, because of the profile, image and attitude of some of our pastors, who are now becoming larger than life, some people think that churches are very rich so they can enter the church and take some of the belongings of the church or kidnap the pastor and take some of his belongings because of his lifestyle. These are some of the fundamental reasons why there is a bit of attack both on churches and sometimes on pastors.
In retrospect, is there anything you would love to change about your life?
I wish I had become born again a bit earlier so that I would know the ways of the Lord better. However, a lot of the things I suffered and experienced outside of Christ have helped me to become stronger, more compassionate and more understanding. When I talk about marriage, it is not theory. I have gone through the pains of marriage. And when I talk about poverty and owing money, it is not theory because I have owed money before. When I talk about sickness, it is not a theory because I have been sick and almost died before. When I talk about fear, anxiety and depression, I have gone through that and many more. What happened to David in the Bible, when Saul was trying to kill him, has happened to me before. My bosses and mentors have come after me. So, it makes me an all-round person. The pain wasn't easy but today, I look back and I am thankful because I have a lot of empathy for people who are going through all sorts of things. I don't preach theory, I teach practical things. I don't judge anyone because sometimes, you are not in control of your environment and things may overwhelm you. I listen to people and advise them. I don't condemn because God has not condemned. People find it easy to talk to me because I am a very good listener and sometimes, the only therapy anyone wants is to be listened to. By listening, you could make someone happy and stop the person from committing suicide.
If you could wish for anything, what would it be?
I wish life would be better for every human being. Anywhere I go, I like to see people do better and fulfill their potential. Some people are surprised when I have time for the poor and weak. The drug addicts and those society has condemned are some of my best friends. We talk, laugh, joke and I help them. Although sometimes they can be a bit annoying, we keep going. I will rather allow people to cheat me than face the fear of not helping someone. I pray that God gives me the resources to change the world.
What is your philosophy of life?
Every day is a gift and every day lived means that one's life is a day shorter. So, take each day, thank God for it, do your best and move to the next.
What do you do for fun?
I play with my children, watch television and sometimes, I go on vacation. My life, my work and ministry are fun because I enjoy what I do tremendously.
Do you consider yourself a romantic person?
Let's not say romantic. Let's just say I care very much for my wife and I do all I can within my capacity and resources to make her happy.
What is the most pleasurable gift you have ever given her?
She will be the one to say so because I don't know which one out of the gifts I have given her is pleasurable.
Do you think men of God are too holy to talk about love?
Love is the highlight of holiness, and it is expressive. For God so loved the world that He gave His only begotten son. I show my wife love publicly. I hug and kiss her and she sits on my laps. We play, laugh, hold hands, and tease each other. We are friends and there is nothing within my power that I will not do for her. And I think there is nothing within her power that she will not do for me. I really don't expect anything from her, but she is very generous.
Leverage social media to make more money and grow your brand in 2019! Attend The Social Media Wealth Masterclass with Isaac Click here to ENROL NOW!
Follow us on Instagram
|
Advertise With Us
|
Send Us News Tips
|
Promote Your Music