Bride angry as groom buys 50 pigs to walk her up the aisle [PHOTOS]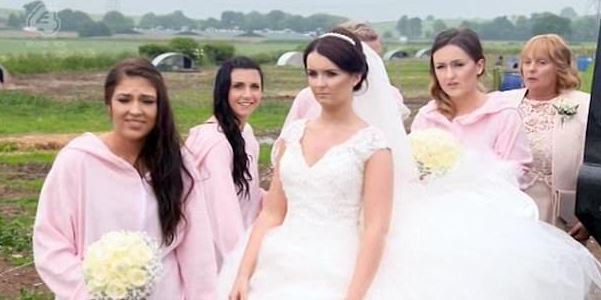 A 23 year old bride from Mansfield Woodhouse, Nottingham, has been left furious after her groom, Billy blows £14,000 budget on fifty pigs to walk her up the aisle on her big day and bridesmaids in pink onesies because her nickname is 'little piggy.'
The groom who was given a £14,000 budget to plan a wedding in "Don't Tell the Bride" used it on a pig themed wedding, hiring 50 of the animals in an attempt to break a world record pig parade – which unfortunately failed spectacularly.
According to daily mail, Billy reasoned that his wife-to-be would be thrilled with the unique theme because of her pet name, 'little piggy' but Steph refused to speak to him when she arrived at the altar.
The bride who dreamed of a traditional wedding in the country clearly unaware of the pig theme was left fuming after she was forced to walk up the aisle surrounded by pigs.
She said, 'I'm so mad now, I don't want to go to the wedding, I'm fuming.''
''I think this is a joke. I don't want pigs at my wedding, it's gone to the extremes; I just want this over with.''
The mother of the bride was equally displeased, they were unable to crack a smile as they walked down the aisle.
She said, ''When your first daughter is getting married, this is not what I wanted'
A Guinness World Record adjudicator was also a guest at the wedding to monitor Billy's attempt to usher a parade of 50 pigs after their vows, but it didn't go as planned after they ignored his instructions.
Steph bridesmaids who were also made to wear pig onesie were not impressed either as they blasted the 'tacky' onesies including the purple dresses he had bought as back up.
Billy later explained that his rather niche theme acted as a tribute to one of their first dates where they had gone for food and Steph said 'I feel like right little piglet'.
" I'm not a world record holder but I married the girl of my dreams," he said.
💰Make, Manage & Multiply More Money FREE CLICK HERE👌
How to JAPA to the UK easily [Free Application Templates]