Borno massacre: Boko Haram mounts checkpoints, collects levies, says Senate, Reps invite Buhari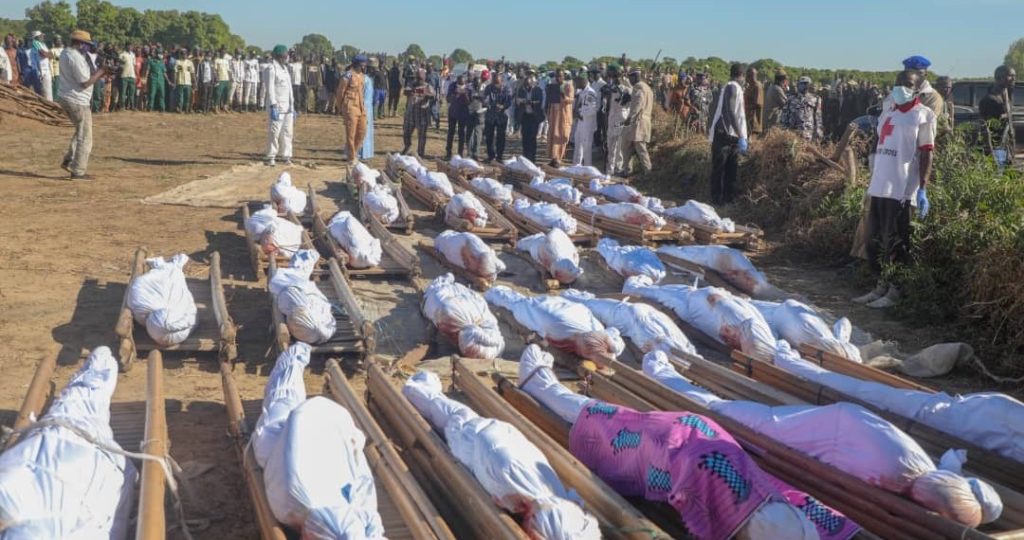 The Senate on Tuesday again urge Mr President, Major General Muhammadu Buhari (retd.), to sack the  service chiefs over their failure to secure Nigerians.
The upper chamber of the National Assembly, which said security situation had deteriorated to a level, where Boko Haram  mounted  roadblocks in some parts of Borno  State and collected levies from farmers, also asked the President to restructure the country's security architecture.
Tuesday's  call for the service chiefs' removal was the third by the Senate.  The latest call  followed a motion by Senator Kashim Shettima on the recent killing of  rice farmers in Borno State by the Boko Haram  insurgents.
Since Saturday when the Boko Haram  insurgents killed no fewer than 43 rice farmers in the state, service chiefs have come under attack by Nigerians, who have demanded their removal.
On Tuesday,  the Senate again joined the  call for the removal of the service chiefs. The upper chamber of the National Assembly also  demanded a probe into the allegations of corruption  levelled against some military leaders.
The red chamber also stressed the need to urgently recruit 10, 000 personnel into the civilian joint task force because they would know  their areas.
Loss of lives too many, Lawan laments
President of the Senate, Ahmad Lawan, who presided over the session, lamented the recent killing.
Lawan said, "It is now important that the executive should implement the latest resolutions because they are not frivolous.
Enough of excuses. ,Those who have nothing to offer in terms of securing the country, should be shown  the way out.  The security of Nigerians should take the centre stage. Time has come to find a  solution."
In his contribution, the Chairman, Senate Committee on Judiciary, Human Rights and Legal Matters, Opeyemi Bamidele, said if the President should retain the service chiefs, he should retire them and constitute them into a presidential advisory council on security.
Pass WAEC, NECO, JAMB like a boss - Practise for FREE on ExamblyApp!
Join Us On Telegram
|
Promote Your Music