Bishop David Oyedepo denies campaigning or Peter Obi, reveals reasons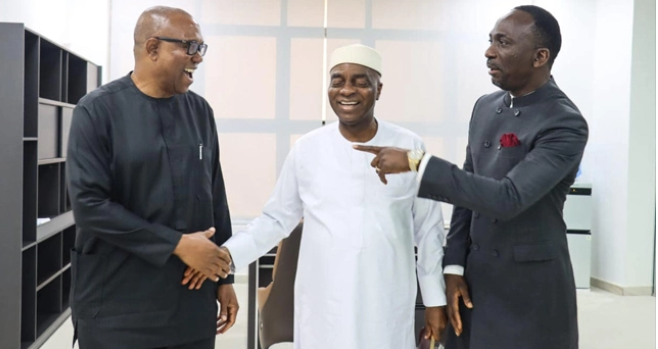 The leader of Faith Tabernacle, Bishop David Oyedepo, has vehemently denied any involvement in partisan politics following the release of a purported audio recording featuring him and the presidential candidate of the Labour Party, Peter Obi.
The audio recording, which made the rounds on social media on April 1, purportedly showed Peter Obi seeking the support of Bishop Oyedepo to sway Christian voters in the South-West and Kwara states to his side. However, the bishop has denied having any such conversation.
In a powerful statement during a church service on April 2, Bishop Oyedepo dismissed the claims made in the audio recording, stating that he has never spoken on behalf of any political party, and never will. He emphasized his commitment to speaking the truth, even if it may be unpopular, stating that nobody can tell him what to say.
"I have never campaigned for anybody or spoken on anybody's behalf and I will not do that till I go to heaven. There is no political party in this country that didn't come to me for prayers and advice. I advised them, some they didn't take. Those who chose to take it, they see results; those who said no, they are going about it (laughs). If you still come again, I will still tell you, it doesn't change," Bishop Oyedepo said.
The bishop's strong words serve as a reminder of the importance of integrity in public life, especially for religious leaders who wield a significant amount of influence. In a country where political leaders often seek to curry favor with religious leaders, Bishop Oyedepo's stance is a refreshing departure from the norm.
As a renowned Christian leader with a large following, Bishop Oyedepo's influence extends beyond the walls of his church. His stance on partisan politics sends a clear message to his followers and other religious leaders that integrity and the truth must always come first.