Assasins want to kill me – Ogun Governor Dapo Abiodun cries out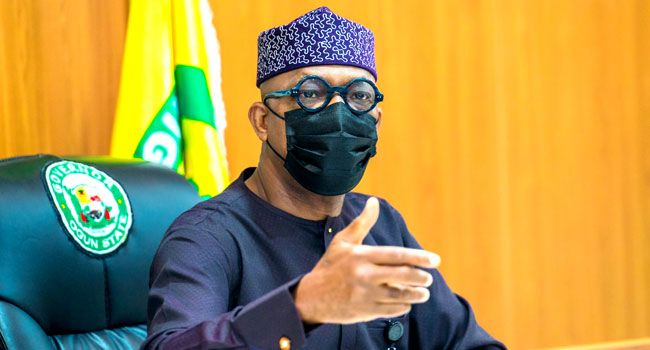 Dapo Abiodun, Ogun State Governor, has revealed that hired assassins and other criminals are after his life, following the anti-crimes battle of his government.
Speaking on Wednesday, Abiodun hinted that the hoodlums are feeling the heat of the newly relaunched security outfit code-named OP-MESA.
The governor had on January 21, 2022 re-launched the state joint security outfit where he declared war on kidnappers and Internet fraudsters in the state.
The governor stated this while speaking at the 'Ogun, Oyo Joint Security Meeting', bilateral session organised by Ogun and Oyo State Governments to find solutions to the insecurity challenges in their states.
Abiodun said the criminals have decided to go after his life because "I am making life unbearable for them."
The governor, however, dared the criminals, saying "I am waiting for them."
He said, "After we launched our OP-MESA last week, I understand that they have been working extremely hard. In fact, what I hear is that those criminals are now saying that Dapo Abiodun is making life unbearable for them and that they are going to come after me. Well, let me assure you that I will continue to make life intolerable and unbearable for you and I'm waiting for you.
"We will ensure no more hiding place for criminals. I will continue to make life intolerable for them (criminals) and I will continue to do it."
On his part, Governor Seyi Makinde described the joint security meeting as the right thing to do "and it is absolutely important we do it."
The Oyo governor said he and Abiodun had defied political party differences and pursued a common goal of fighting insecurity in their states.
He insisted that state policing is vital to addressing insecurity challenges at the grassroots.
TopNaija recalls that In 2018, the Cable Newspaper alleged that Abiodun was involved in certificate forgery.
As a result of the Pandora Papers leaks, the Premium Times once reported on Abiodun's involvement in two offshore companies known tax haven, the British Virgin Islands. The report noted that Abiodun owned and was the sole director of both Marlowes Trading Corporation and Heyden Petroleum Limited in apparent violation of the Code of Conduct Bureau and Tribunal Act as neither company was declared when Abiodun was elected Governor.
Abiodun himself avoided questions on the topic but an associate of Abiodun claimed that the governor had meant to dissolve the companies but didn't notice that they had not been dissolved yet