As next president, I'll continue where Buhari stopped – David Umahi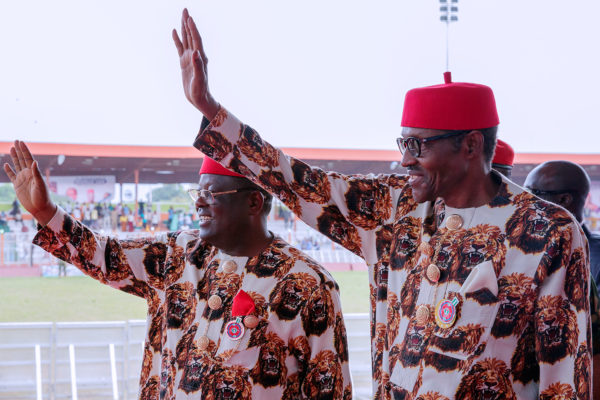 Ebonyi state governor, David Umahi has promised to carry on from where President Muhammadu Buhari would have stopped by the end of his tenure if elected president in 2023.
"This is my conviction and that we can also build from where Mr President (Buhari) would stop,"Umahi said. "I am also close to President. I know his heartbeat for the country, and I know what he desires for this country. So, I think that I understand his programmes and his policies and his integrity, coupled with what we have done in Ebonyi state, and it can add and help the country."
Umahi disclosed this in an interview on Channels TV on Tuesday night, shortly after declaring he will run for president in 2023.
Speaking further, he stated, "I feel within me that the country is passing through a phase and I believe strongly that the miracles that God helped us to do in Ebonyi state by reason of all the successes we made in all the economic indices and all our programmes, that if given the opportunity, we can replicate it at the national level."
Umahi's statement came barely 24 hours after APC national leader Bola Tinubu announced that he would contest the presidency in 2023 to build on Buhari's legacy.
Buhari's regime has been characterised by gross violation of human rights abuse, insecurity and economic hardship. Under his regime, Nigerians witnessed the massacre of Shiite protesters in Zaria in 2015, with over 300 members of the Islamic group killed by Nigerian soldiers and buried in shallow graves.
Similarly, in 2016, Amnesty International condemned the Buhari regime after soldiers killed over 150 unarmed Indigenous Peoples of Biafra. On October 20, 2020, soldiers fired shots on #EndSARS protesters, mostly youths remonstrating against police brutality and extortion.
Though Buhari promised to combat insecurity during his campaign in 2015, under his watch, insecurity has taken a more dreadful trajectory with bandits, Boko Haram, kidnappers, and unknown gunmen killing and kidnapping for ransom across the country.
On January 29, 2021, the Peoples Gazette reported that throughout Umahi's tenure as Deputy Governor and Governor, he had transferred more than ₦3.6 billion in government money to his company, Brass Engineering & Construction Nig. Ltd. Bank records showed the payments starting in 2011, when Umahi become Deputy Governor to Martin Elechi, and continued into his term as Governor.
In response, Umahi and an aide threatened Peoples Gazette reporters on phone calls and the Peoples Gazette website was blocked, before requesting a retraction and ₦1 billion as "atonement" from the newspaper. After the paper stood by its story, Umahi sued the Peoples Gazette for defamation and demanded ₦2 billion in damages
💰Make, Manage & Multiply More Money FREE CLICK HERE👌
How to JAPA to the UK easily [Free Application Templates]