Apply: Hamdan International Photography Award 2018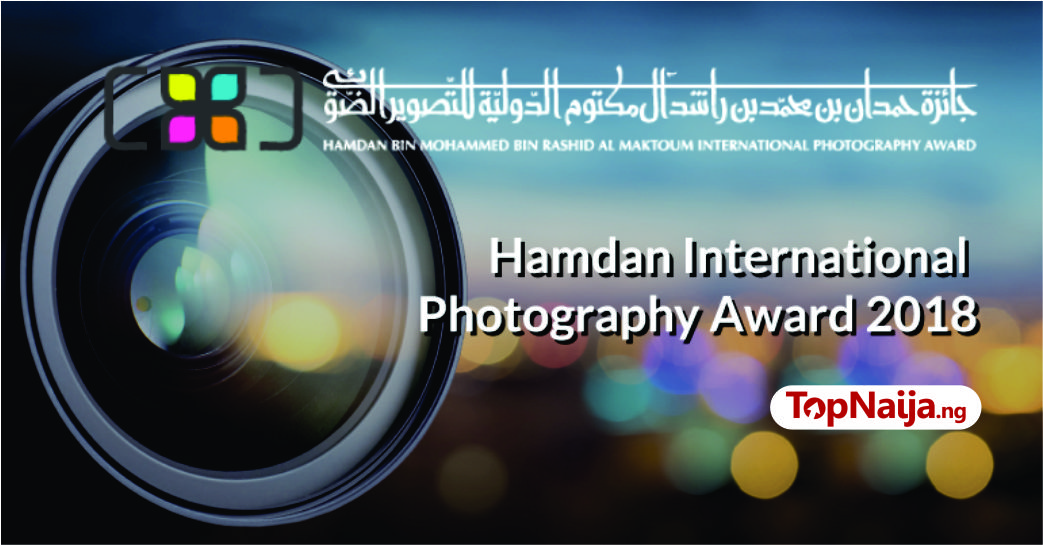 Dubai continues to direct its energy into developing and the Dubai 2015 Strategy is a roadmap that charts this sustained effort.
With this in mind H.H. Sheikh Hamdan Bin Mohammed Al Maktoum established the prestigious 'Hamdan International Photography Award'. This demonstrates the commitment of Dubai to encouraging and supporting art, culture and innovation. The Award appeals to all talented photographers across the globe and also nurtures national talent, which will, in turn, attract international art and cultural attention.
TopNaija.ng brings you the Award that highlights how Dubai is fast developing into one of the most artistically conscious and established cities in the world. As HIPA's Seventh Season of competition dawns on photographers from all around the world, various surprises await them in the conquest for photographic success. 'The Moment' will be the main theme of the Seventh Season of competition.
Benefits
The Grand Prize (USD $120,000) will be chosen from any category available this season, and not only from the main theme
The total Prize pool is US $423,000.
There are now THREE Special Awards for the Seventh Season and they are

'The Photography Appreciation Award',
'The Photography Content Creator Award' and
The 'Emerging Person/Organisation in Photography Award'
Eligibilities
Participants must be individuals aged eighteen (18) years and over at the time of their submission(s)
You hereby certify that you are eighteen (18) years old or older at the date of submitting your photo(s) to the competition. You further understand and agree that HIPA will automatically and without further notice discard any photo(s) that are found to be submitted by a participant that is below eighteen (18) years old at the time of its submission
You may submit up to one (1) photo in each category of the competition including the sub categories under the General category. Except the Portfolio category where you can submit between 5 – 10 photographs, and the 'Time-lapse: Video category where you are allowed to enter one video submission in the category. You must provide a title and description for each photograph submitted including ones in the Portfolio category
The same photo must not be submitted in more than One (1) category. Any photo submitted in more than one (1) category will be discarded from the competition
Submitted photo(s) must be in JPEG format, with high quality and resolution, of a minimum 5 MB in size, the minimum of the longest edge should be no less than 2000 pixel and the quality no less than 300dpi to be suitable for publication
In the 'Time-lapse:Video' category, the accepted video format is MP4, not exceeding 300 MB in size and must be between 30 – 60 seconds in length
The video should be a high quality HD quality 1920 X 1080 with an aspect ratio of 16:9. The format must be MP4 H264 and 25 fps
You are kindly requested to upload the original photograph (RAW) or the photograph without any editing on the time of submitting the photograph to the contest. This does not apply the 'Time-lapse' category which may require you to send over some original frames of the video at a later date
Black and white photographs are permitted in all the categories of the Competition except for the Color sub category under the General category
For the Portfolio category, you are requested to submit a series of photographs on the same subject matter. The number of permitted photographs is minimum 5 and maximum 10 photographs
All submitted Photos/ Video(s) must not contain any tag(s), signature(s), initial(s), frame, border(s), logo(s) or any other references and/or marks added by the participant. Basic technical editing of the photo(s)/ video(s) is acceptable, provided any such editing does not affect the authenticity and/or genuineness of the photo(s). Advanced editing used to create illusions, deceptions and/or manipulations, including compositing and creative retouching of the photo(s)/ video(s)is prohibited. HIPA preserves the right to assess and discard from the competition any submitted photo(s)/ video(s) deemed, at HIPA's own discretion, contrary to the foregoing
Photos/ Video(s) that portray or otherwise include inappropriate and/or offensive contents, including nudity, violence and/or any other contents deemed to be contrary to the UAE religious, cultural and/or public morals traditions and practices will be disqualified
Photo(s)/ Video(s) that have won any previous award(s), whether in any HIPA prior competition(s), or in any other competition(s) whatsoever and announced before 31st October 2017 , and/or Photos that have been previously used, or are intended to be used, for any kind of commercial purposes, must not be submitted. Any Photo(s)/ Video(s) submitted in contrary to the foregoing will be automatically and without further notice discarded from the entire Competition
Eligible Regions: Open For All
Application Process
Apply online through the given website
Application Deadline: October 31, 2017 (32 Days Remaining)