APC insults Bode George, says he still living In the past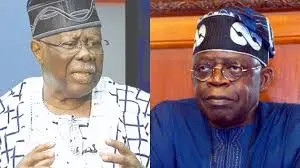 All Progressive Congress (APC), has blasted Peoples Democratic Party (PDP) Chieftain, Bode George, for describing APC Leader, Bola Tinubu's presidential ambition as a huge joke.
Addressing journalists a media briefing in Uyo, the Coordinator of TSG in the state, Hon Ifiok Inyang, said though the constitution recognizes freedom of expression, George has flagrantly abused it by insulting someone like Tinubu whose pedigree is being celebrated across the political divide of the country
According to him: "Bode George is entitled to his opinion and we have freedom of expression. So, if he says Tinubu, who is being celebrated across the political divide of this country, made a declaration that is a huge joke, it, therefore, means that he is still living in the ancient days, not the world of today.
"It came strong and powerful, reverberating across the entire direction of our national political landscape. It stirred the somewhat somnolent political space of activities in the land into a frenzy.
"Shortly after it broke, it ignited a spark that compelled at least two other top members of our party, the APC, to also declare interest in running for the office as president of our motherland. The days head will be interesting to witness."
Chief  Olabode Ibiyinka George("Bode George") is a Nigerian politician who became Military Governor of Ondo State, and later Chairman of the Nigerian Ports Authority, then national vice-chairman in the southwest zone of the People's Democratic Party (PDP).