Allardyce Rips Into His Players' Performance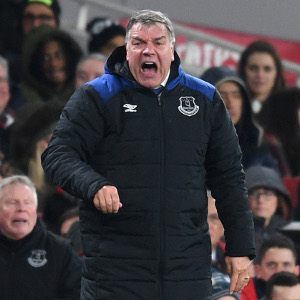 Angry Everton manager Sam Allardyce tore into his own players after their 5-1 mauling by Arsenal on Saturday, dismissing the result as a "disaster" and branding some performances "pathetic".
In a withering assessment of Everton's prospects this season, Allardyce said he faced "an uphill battle" ironing out Everton's inconsistency because the players are not listening to his instructions.
Allardyce had been hoping his team would emulate the skill with which Swansea took three points off the Gunners on Tuesday, making the most of their visitors' defensive weaknesses.
Instead, Everton ran into an Arsenal side on Saturday firing on all engines and linking up all around the pitch to score seemingly at will.
"It was a pathetic, pathetic first-half performance," Allardyce told reporters. "I was angry at halftime, I still am angry.
"It was a disaster. We studied how Swansea played and we set out to play like that. Obviously we didn't put that game plan in the manner Swansea put it in.
"I can play any system but if the players play like they did in the first half, all 11, then I've got no chance. It isn't good enough."
He said the whole team had turned in a sub-par performance.
"None of our first 11 in the first half played anywhere near their best. And that's why we were tumbling goals left, right and centre with our pathetic performance," he added.
"The whole team played crap."
Allardyce said he had been working since his arrival at Everton at the end of November to improve their defensive play and stop leaking goals, adding that while the team also worked on its attacking skills he did not expect them to start banging in lots of goals.
"I have to say the longer and longer I go on, the inconsistency, I face an uphill battle trying to get them more consistent to play their best week in, week out," he said.
"Defensively we work just as much as we work in attacking. We've been trying to balance the two off.
"We're still not going to be a great team that scores a lot of goals. We have to face that for this season. But none of it was any good in the first half."
He did, however, take heart from the team's second-half at Arsenal, where they pulled one goal back, with his younger players performing more solidly than the veterans.
"Tom Davies was very good, and Dominic (Calvert-Lewin) was good and got the goal. And they're two of the youngest players showing the older players what they should have performed like," he said.
Everton dropped down one spot in the table to 10th.