After closed-door meeting with Tinubu, Wike, Makinde speak up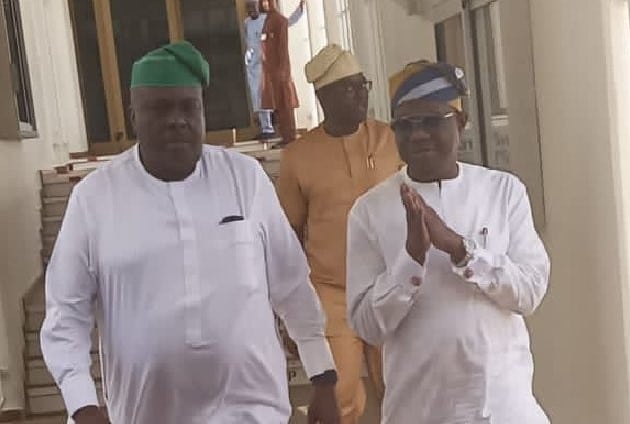 Nyesom Wike, the former Governor of Rivers State, has expressed public support for President Bola Tinubu's contentious move to eliminate fuel subsidies, acknowledging that governance of a nation like Nigeria is a demanding endeavour.
Wike made his position clear in a short discussion with state house correspondents on Friday.
It had been previously reported by Naija News that the ex-Governor, in company with the Governor of Oyo State, Seyi Makinde, and former Governor of Delta State, James Ibori, met with President Tinubu at Aso Rock.
On being queried about the intent of the visit, Wike elucidated, "There's nothing unusual about it; the Oyo governor has already shared our mission – to express our support. We stand behind all the decisions he's making. It illustrates his preparedness for the role, and there's absolutely nothing wrong in that. Advancement of a country necessitates tough decisions."
In response to speculation about his potential defection from the Peoples Democratic Party (PDP) to the All Progressives Congress (APC), Wike simply warned, "Don't make such an assumption."
In tandem, Governor Makinde confirmed their visit's purpose was to express support to the President.
Regarding the contentious issue of fuel subsidy removal, he stated, "Indeed, we discussed it. It's presently a hot topic in public debate. We understand it's a tough decision for the populace and he requires the support of everyone to see it through."
Both Makinde and Wike, prominent members of the G-5 group established amid the 2023 pre-election upheaval within the PDP, had instrumental roles in President Tinubu's electoral victory on February 25, 2023.
During a visit to Rivers State last month, President Tinubu publicly lauded Wike, who was then nearing the end of his term as Governor. The warmth between the two leaders seems to be reflective of a broader political understanding, further evident in Wike's endorsement of Tinubu's recent policy decisions.